Laud Herb in English
English-speaking LH analyst
Команда форума
Сообщения

11.375
Реакции

5
...12-Gauge BlenderBall. Rounded Base. Leak Proof. Germ Guard. Adjustable Loop....
​
Full product title:
Sundesa, Blender Bottle Pro45, Proseries, Grey/pink, 45 Oz
Brand:
Sundesa
iHerb product id:
69093
Laud Herb Tag:
69093



Price:
$12.99
Extra Discount:
Yes
Free shipping:
Yes, to 150 countries
(for orders over $40)
iHerb customers rating:
5.00
iHerb customer reviews:
1
Best choice?
May be...
(see
reviews
)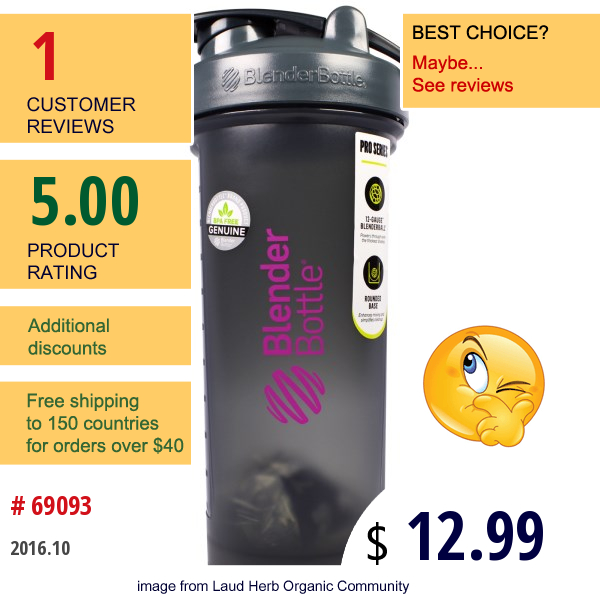 Description:
12-Gauge BlenderBall.
Rounded Base.
Leak Proof.
Germ Guard.
Adjustable Loop.
BPA Free.
Dishwasher Safe.
Large Capacity.
12-Gauge BlenderBall.
Powers through even the thickest shakes.
Rounded Base.
Enhances mixing and simplifies cleanup.
Our Biggest Shaker Cup Yet.
Boasting a heavier, more powerful 12-Gauge BlenderBall, a rounded base, and a massive 45-ounce capacity, the BlenderBottle Pro45 is built to go big.
Room For It All.
The Pro45's massive 45-ounce capacity fits virtually all mass gainer shakes, multiple scoops of a recovery drink, or enough water to keep you hydrated with minimal refills.
New 12-Gauge...
read more
.
Categories:
Sundesa
,
Sports
,
スポーツ
,
スポーツウォーターボトル、カップ
,
Спорт
,
스포츠
Последнее редактирование модератором: