Laud Herb in English
English-speaking LH analyst
Команда форума
Сообщения

11.375
Реакции

5
...Blenderbottle Brand Product Genuine Blender Bottle. BPA Free. Genuine. Shake It Up...
​
Full product title:
Blender Bottle, Sport Mixer Blender Bottle, Grip Tritan, Blue, 20 Oz
Brand:
Blender Bottle
iHerb product id:
69085
Laud Herb Tag:
69085



Price:
$10.99
Extra Discount:
Yes
Free shipping:
Yes, to 150 countries
iHerb customers rating:
0
Best choice?
May be...
(see
reviews
)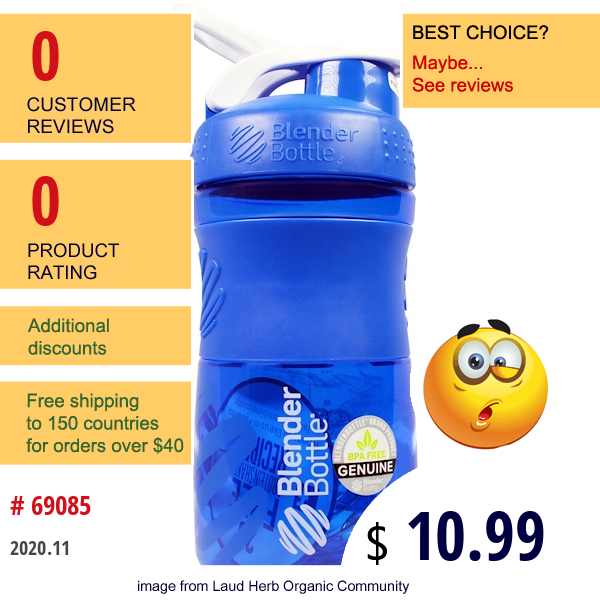 Description:
Blenderbottle Brand Product.
Genuine Blender Bottle.
BPA Free.
Genuine.
Shake It Up.
The sportmixer's patented stainless steel blenderball mixes up your favorite hydration drinks, supplements, meal replacements and more - perfectly smooth, every time.
Smart Features.
Patented BlenderBall Mixes as You Shake.
Eastman Tritan bottle is BPA free and odor resistant.
SportLoop makes the bottle easy to carry or clip to your pack.
Rugged, leak-proof design handles rough-and-tumble treatment.
Rubber over molding offers a sturdy grip.
Ounce/milliliter markings let you hit your mark.
28-oz and 20-oz sizes let you go big or pack light.
Smooth...
read more
.
Categories:
Blender Bottle