Laud Herb in English
English-speaking LH analyst
Команда форума
Сообщения

11.375
Реакции

5
...Essentials. Premium Branched-Chain Amino Acids. Dietary Supplement. Stimulates Lean Muscle Growth...
​
Full product title:
Gat, Bcaas, 180 Capsules
Brand:
Gat
iHerb product id:
65904
Laud Herb Tag:
65904



Price:
$15.99
Extra Discount:
Yes
Free shipping:
Yes, to 150 countries
(for orders over $40)
iHerb customers rating:
1.00
iHerb customer reviews:
1
Best choice?
May be...
(see
reviews
)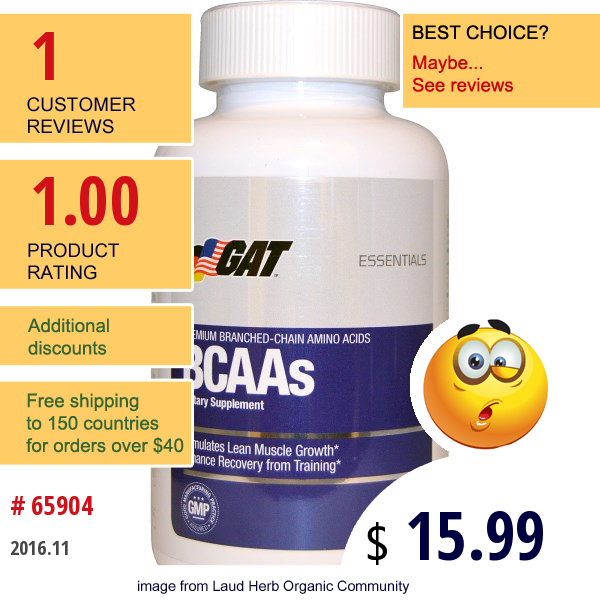 Description:
Essentials.
Premium Branched-Chain Amino Acids.
Dietary Supplement.
Stimulates Lean Muscle Growth.
Enhance Recovery from Training.
Good Manufacturing Practice Assured - GMP.
Fast, Effective Support of Lean Muscle Building & Recovery.
GAT BCAAs capsules contain all three branched-chain amino acids - leucine, valine and isoleucine - in free-form and a 1.6 : 1.4: 1 ratio. The free form (not protein bound) supports rapid absorption and delivery to your muscles. Plus, we've added co-factors to support your metabolism. Our capsules are tested to ensure that they meet or exceed United States Pharmacopeia guidelines for dissolution (i.e. release of ingredients).
The BCAAs play important roles in muscle energy metabolism,...
read more
.
Categories:
Amino Acids
,
Bcaa ( Branched Chain Amino Acid )
,
Sports
,
Recovery Formulas
,
アミノ酸
,
スポーツ
,
リカバリーフォーミュラ
,
Аминокислоты
,
Bcaa (Аминокислоты С Разветвленной Цепью)
,
Спорт
,
Восстановительные Формулы
,
아미노산
,
Bcaa (분지 사슬 아미노산)
,
스포츠
,
체력회복 포뮬라
Последнее редактирование модератором: