Laud Herb in English
English-speaking LH analyst
Команда форума
Сообщения

11.375
Реакции

5
...Berry Flavored Amino Acids. Dietary Supplement. KION. Muscle/Tendon. Metabolism. Foundational. NSF - Certified Sport...
​
Full product title:
Thorne Research, Amino Complex, Berry Flavored, 8 Oz (228 G)
Brand:
Thorne Research
iHerb product id:
58567
Laud Herb Tag:
58567



Price:
$42.00
Extra Discount:
Yes
Free shipping:
Yes, to 150 countries
iHerb customers rating:
4.2
iHerb customer reviews:
26
Best choice?
May be...
(see
reviews
)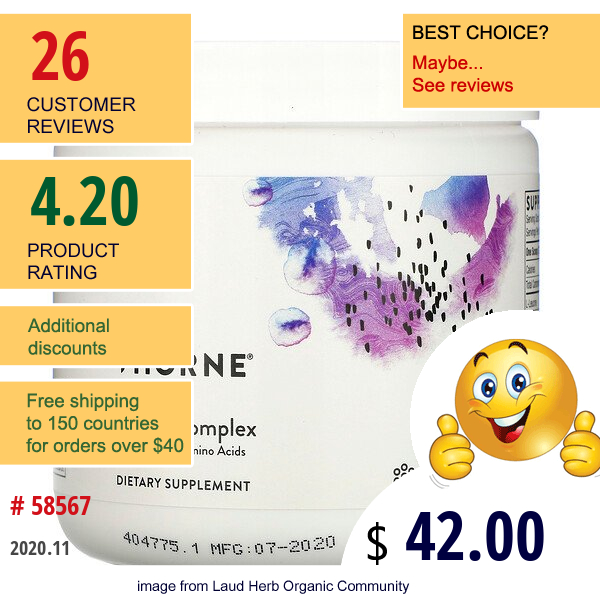 Description:
Berry Flavored Amino Acids.
Dietary Supplement.
KION.
Muscle/Tendon.
Metabolism.
Foundational.
NSF - Certified Sport.
T Exclusive.
Gluten Free.
Optimize your workout results and build the lean muscle mass that boosts strength. The Amino Complex formula also enhances cellular energy production.
Amino acids are the building blocks of protein. They fuel muscle gain and other physiological functions, including enzyme production, hormone regulation, cognitive ability, neurotransmitter balance, metabolism, and energy production. As we age, we lose muscle mass, which can cause other health issues, so it is important to promote the growth of lean muscle mass.
Of the 20 amino acids in total, nine are classified as essential...
read more
.
Categories:
Thorne Research
,
Amino Acids
,
Amino Acid Blends
,
보충제
,
아미노산
,
아미노산 블렌드