Laud Herb in English
English-speaking LH analyst
Команда форума
Сообщения

11.375
Реакции

5
...Since 1972. Cellular Complex. Alcohol & Preservative Free. Maximum Absorption....
​
Full product title:
Natures Answer, Resveratrol Reserve, Cellular Complex, 5 Fl Oz (150 Ml)
Brand:
Natures Answer
iHerb product id:
23375
Laud Herb Tag:
23375



Price:
$15.29
Extra Discount:
Yes
Free shipping:
Yes, to 150 countries
(for orders over $40)
iHerb customers rating:
4.5
iHerb customer reviews:
40
Best choice?
May be...
(see
reviews
)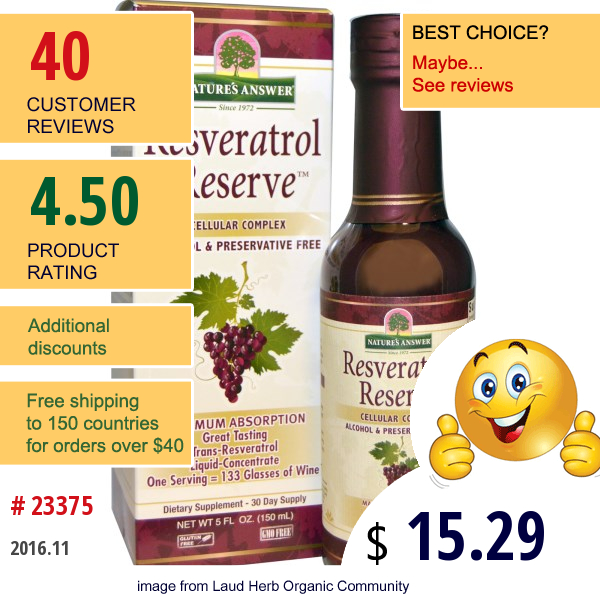 Description:
Since 1972.
Cellular Complex.
Alcohol & Preservative Free.
Maximum Absorption.
Great Tasting.
Trans-Resveratrol.
Liquid-Concentrate.
One Serving = 133 Glasses of Wine†.
Dietary Supplement.
30 Day Supply.
Gluten Free.
GMO Free.
With Quik-Sorb.
Made in USA with Imported Ingredients.
Resveratrol has created a buzz in the scientific community. Research shows that it may be the missing link in the 'French Paradox'. Nature's Answer Resveratrol Reserve is Super Concentrated so that you can reap the healthful benefits of resveratrol. One teaspoon (5 ml) serving contains 125 mg of trans-resveratrol. This is equivalent to the resveratrol content of approximately...
read more
.
Categories:
Resveratrol
,
レスベラトロール
Последнее редактирование модератором: