Laud Herb in English
English-speaking LH analyst
Команда форума
Сообщения

11.375
Реакции

5
...Supports Hydration for Radiant Skin. Herbal Supplement. Non GMO Project Verified. USDA Organic...
​
Full product title:
Yogi Tea, Healthy Skin, Caffeine Free, Cinnamon Vanilla, 16 Tea Bags, 1.12 Oz (32 G)
Brand:
Yogi Tea
iHerb product id:
48985
Laud Herb Tag:
48985



Price:
$4.46
Extra Discount:
Yes
Free shipping:
Yes, to 150 countries
(for orders over $40)
iHerb customers rating:
4.25
iHerb customer reviews:
83
Best choice?
May be...
(see
reviews
)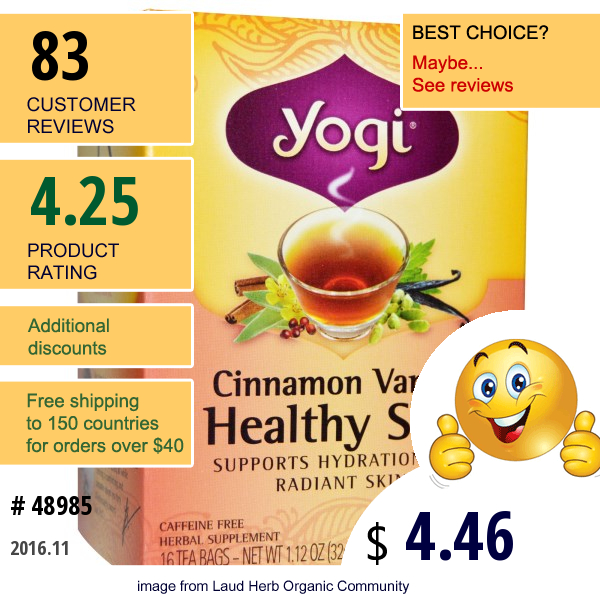 Description:
Supports Hydration for Radiant Skin.
Herbal Supplement.
Non GMO Project Verified.
USDA Organic.
Certified Organic by QAI, Inc.
Rainbow Alliance Certified Rooibos.
Vegan.
Non-Irradiated.
Oxygen-Bleached Tea Bags.
Hydrate and Radiate!
To look and feel its best our skin needs to be well hydrated. Yogi Cinnamon Vanilla Healthy Skin is purposefully formulated with traditionally used skin-friendly ingredients to help rejuvenate and moisturize the skin. This all-organic blend includes Nettle Leaf, Mullein Leaf and Schisandra Berry - Ayurvedic herbs traditionally used to hydrate and retain moisture in the skin's tissues. We then add warming herbs Cinnamon Bark and Cardamom Seed to support circulation,...
read more
.
Categories:
Yogi Tea
Последнее редактирование модератором: