Laud Herb in English
English-speaking LH analyst
Команда форума
Сообщения

11.375
Реакции

5
...100% Natural Teas. Natural Caffeine Free. Kosher. Gluten Free. Blended in Boulder, CO...
​
Full product title:
Celestial Seasonings, Mandarin Orange Spice Herbal Tea, Caffeine Free, 20 Tea Bags, 1.9 Oz (54 G)
Brand:
Celestial Seasonings
iHerb product id:
62953
Laud Herb Tag:
62953



Price:
$3.31
Extra Discount:
Yes
Free shipping:
Yes, to 150 countries
iHerb customers rating:
4.3
iHerb customer reviews:
26
Best choice?
May be...
(see
reviews
)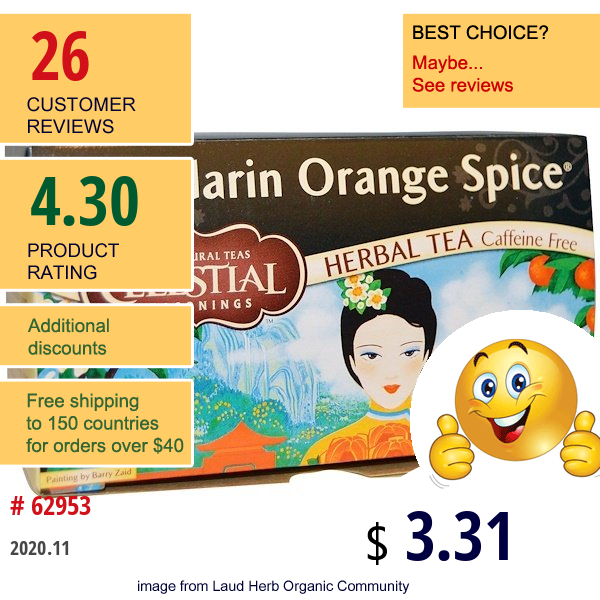 Description:
100% Natural Teas.
Natural Caffeine Free.
Kosher.
Gluten Free.
Blended in Boulder, CO.
Blendmaster's Notes.
Delightfully sweet and healthy, mandarin oranges were cultivated in the Orient for centuries and are now enjoyed around the world. This blend combines tart and juicy oranges with aromatic spices like cloves and coriander to create a bright, lively brew that transports tea drinkers to exotic Asian destinations with every sip.
-Charlie Baden, Celestial Seasonings Blendmaster Since 1975.
Our Natural Heritage.
In 1969, Celestial Seasonings began picking fresh herbs in the forests and canyons of the Rocky Mountains and blending them to create health, flavorful teas. This tradition of turning...
read more
.
Categories:
Celestial Seasonings
,
Grocery
,
Tea
,
Fruit Tea
,
Herbal Tea