Laud Herb in English
English-speaking LH analyst
Команда форума
Сообщения

11.375
Реакции

5
...Pure, Natural & Organic. Normal to Oily. Fragrance Free. Paraben Free. Hypo-Allergenic...
​
Full product title:
Jason Natural, Red Elements, Daily Moisturizing Lotion Spf 15, 2 Fl Oz (59 Ml)
Brand:
Jason Natural
iHerb product id:
15202
Laud Herb Tag:
15202



Price:
$16.13
Extra Discount:
Yes
Free shipping:
Yes, to 150 countries
(for orders over $40)
iHerb customers rating:
4.67
iHerb customer reviews:
9
Best choice?
May be...
(see
reviews
)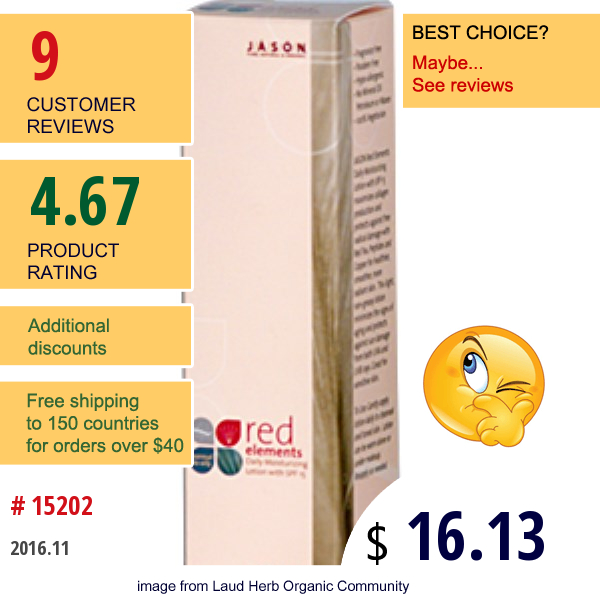 Description:
Pure, Natural & Organic.
Normal to Oily.
Fragrance Free.
Paraben Free.
Hypo-Allergenic.
No Mineral Oil, Petroleum or Waxes.
100% Vegetarian.
Jason Red Elements Daily Moisturizing Lotion with SPF 15 maximizes collagen production and protects against free radical damage with Red Tea, Peptides and Copper for healthier, smoother, more radiant skin. This light, non-greasy lotion minimizes the signs of aging and protects against sun damage from both UVA and UVB rays. Great for sensitive skin.
Made with Red Tea.
Rooibos Red Tea Extract from South Africa is an antioxidant with the highest level of protective Polyphenols to help prevent free radical damage, fine lines and wrinkles, leaving softer, more youthful skin.
Polypeptides.
These...
read more
.
Последнее редактирование модератором: