Laud Herb in English
English-speaking LH analyst
Команда форума
Сообщения

11.375
Реакции

5
...For Sensitive Skin. Non-Comedogenic Hypoallergenic. Fragrance Free. Non-GMO....
​
Full product title:
Home Health, Everclen, Hand Cream, 2 Fl Oz (59 Ml)
Brand:
Home Health
iHerb product id:
69625
Laud Herb Tag:
69625



Price:
$6.99
Extra Discount:
Yes
Free shipping:
Yes, to 150 countries
iHerb customers rating:
5.00
iHerb customer reviews:
1
Best choice?
May be...
(see
reviews
)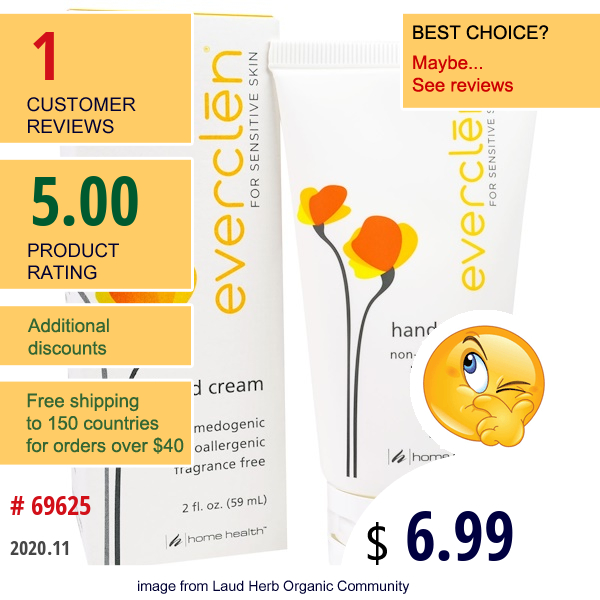 Description:
For Sensitive Skin.
Non-Comedogenic.
Hypoallergenic.
Fragrance Free.
Non-GMO.
Vegan Friendly.
No Animal Testing.
Sensitive skin has special concerns. Even the most mild fragrances, colors or ingredients can cause redness, irritation or stress. Everclen sensitive skincare is free of unkind ingredients that would make skin feel anything but.clean, fresh and healthy.
Everclen formulas are developed, clinically-tested and proven to be non-irritating to senitive skin, hypoallergenic, dermatologically tested, non-comedogenic (won't clog pores) and fragrance free. Use everclen sensitive skincare daily for soft, nourished and naturally radiant skin that looks as good as it feels.
Everclen hand cream is specially formulated...
read more
.
Categories:
Home Health
,
Bath & Personal Care
,
Body Care
,
Hand & Foot Care
,
Hand Cream