Laud Herb in English
English-speaking LH analyst
Команда форума
Сообщения

11.375
Реакции

5
...With Xylitol. No Fluoride. As Natural As You!. No SLS or any of its Derivatives....
​
Full product title:
Greenpeach, Kids Strawberry Magic Toothpaste, 2 Oz (57 G)
Brand:
Greenpeach
iHerb product id:
68172
Laud Herb Tag:
68172



Price:
$3.99
Extra Discount:
Yes
Free shipping:
Yes, to 150 countries
(for orders over $40)
iHerb customers rating:
4.34
iHerb customer reviews:
41
Best choice?
May be...
(see
reviews
)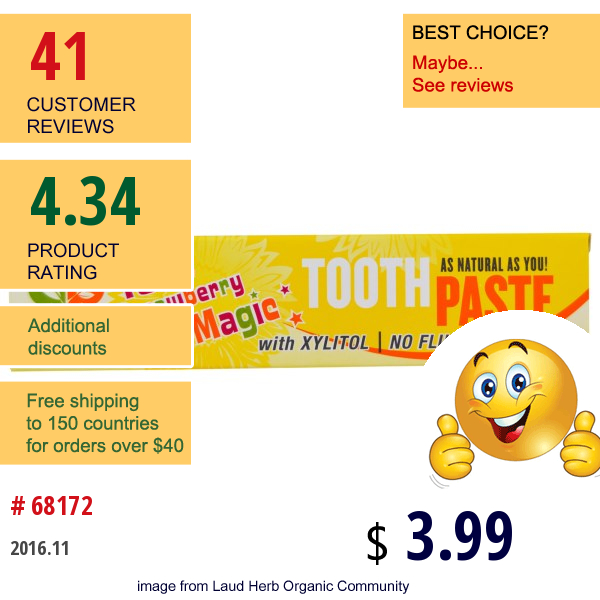 Description:
With Xylitol.
No Fluoride.
As Natural As You!
No SLS or any of its Derivatives.
No Harsh Chemicals.
No Preservatives.
No Gluten.
No Artificial Colors or Flavors.
No Saccharin.
No Paraben.
GreenPeach Products, LLC is a company founded by two families like yours concerned about the safety of products used by our kids. Strawberry Magic tooth paste, along with proper brushing, delivers a blend of fully natural and gentle substances to help our kids remove daily plaque, polish, and whiten their teeth. Xylitol may reduce the risk of tooth decay and cavity. Calcium carbonate help strengthen and protect tooth enamel. Propolis and tree oil, combined with...
read more
.
Categories:
Greenpeach
,
Toothpaste
,
Kids & Baby Toothpaste
Последнее редактирование модератором: