Laud Herb in English
English-speaking LH analyst
Команда форума
Сообщения

11.375
Реакции

5
...3 Billion Cells Per Serving**. Antioxidants. Dairy Free. Prebiotics. USDA Organic...
​
Full product title:
Sunbiotics, Just 4 Kids! Probiotic Chocolate Hearts, 30 Hearts, 2 Oz (56 G)
Brand:
Sunbiotics
iHerb product id:
63262
Laud Herb Tag:
63262



Price:
$17.49
Extra Discount:
Yes
Free shipping:
Yes, to 150 countries
iHerb customers rating:
3.6
iHerb customer reviews:
11
Best choice?
May be...
(see
reviews
)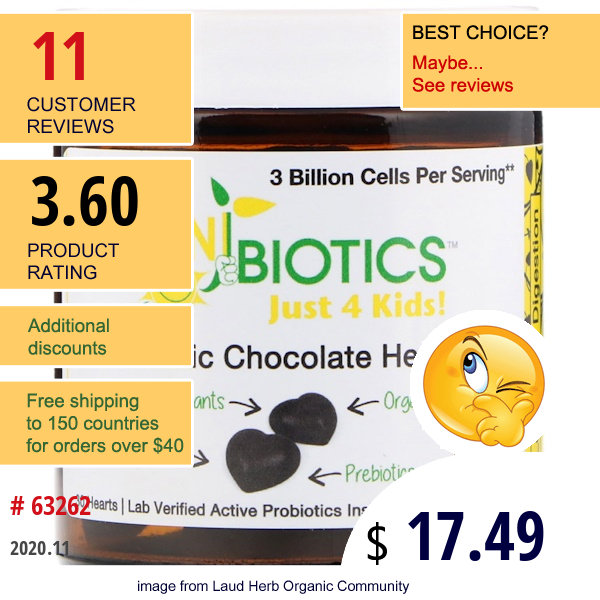 Description:
3 Billion Cells Per Serving**.
Antioxidants.
Dairy Free.
Prebiotics.
USDA Organic.
Lab Verified Active Probiotics Inside.
Love Your Digestion.
Certified Organic by Oregon Tilth.
Kosher.
✓RAW.
As a parent you know that it can often take creative thinking and a dash of trickery to get your little ones to consume healthy things like probiotics. We're here to help!
By using only the finest raw, organic, and fair-trade ingredients, our pure stone ground chocolate hearts deliver a potent dose of nutrition and probiotics in a form every children will love: chocolate. Every serving contains 3 billion CFUs** of active probiotics along with organic yacon root prebiotics.
Proper levels of probiotic bacteria...
read more
.
Categories:
Sunbiotics
,
Baby & Kids
,
Heat Sensitive Products
,
ベビー & キッズ
,
子供の健康
,
子供用プロバイオティクス
,
熱に弱い製品
,
Детские Товары
,
Здоровье Детей
,
Пробиотики Для Детей
,
베이비&키즈
,
어린이 건강
,
어린이 프로바이오틱스
,
온도에 민감한 제품