Laud Herb in English
English-speaking LH analyst
Команда форума
Сообщения

11.375
Реакции

5
...One Planet One Future English & Spanish 40 Bilingual Cards Letters, Animals, Shapes, Numbers...
​
Full product title:
Munchkin, Traveling Flash Cards, 3 + Years
Brand:
Munchkin
iHerb product id:
59046
Laud Herb Tag:
59046



Price:
$5.39
Extra Discount:
Yes
Free shipping:
Yes, to 150 countries
(for orders over $40)
iHerb customers rating:
4.00
iHerb customer reviews:
8
Best choice?
May be...
(see
reviews
)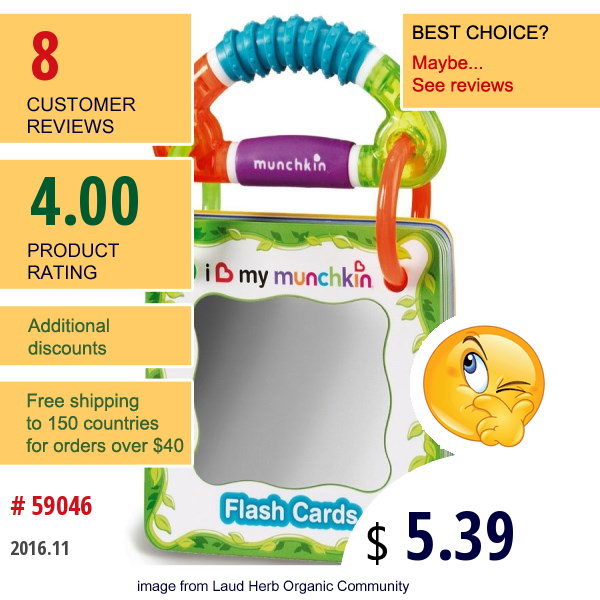 Description:
One Planet One Future.
English & Spanish.
40 Bilingual Cards.
Letters, Animals, Shapes, Numbers.
Portable bilingual flash cards that help children learn letters, numbers, colors and shapes with the help of wildlife pictures-because you never know where and when you'll get the opportunity to teach. It's the little things.
Stuff you should know:
40 Cards with 80 images.
Encourages baby to recognize shapes, colors and animals.
Helps to identify numbers and practice counting.
Ideal...
read more
.
Categories:
Munchkin
,
Kids Toys
Последнее редактирование модератором: