Laud Herb in English
English-speaking LH analyst
Команда форума
Сообщения

11.375
Реакции

5
...Silky Soft. Phthalate Free. Latex Free. BPA Free. Cool No Slip Grip. 100% Vegetable Bristles...
​
Full product title:
Radius, Totz Plus Toothbrush, 3+ Years, White/blue, 1 Toothbrush
Brand:
Radius
iHerb product id:
63598
Laud Herb Tag:
63598



Price:
$3.59
Extra Discount:
Yes
Free shipping:
Yes, to 150 countries
(for orders over $40)
iHerb customers rating:
4.58
iHerb customer reviews:
26
Best choice?
May be...
(see
reviews
)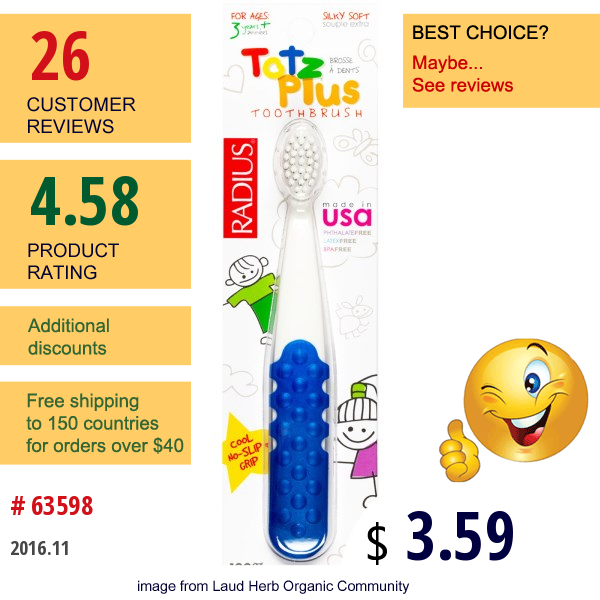 Description:
Silky Soft.
Phthalate Free.
Latex Free.
BPA Free.
Cool No Slip Grip.
100% Vegetable Bristles.
The Natural Choice for the Natural Smile.
Cruelty Free.
Polished Bristles are 100% Vegetable-Based Nylon.
Card 40% Recycled and Printed With Vegetable Inks.
100% Recycled PET Use.
Handle is BPA-Free #5 Plastic.
Toothbrush heads of all brands are not Recyclable.
Please Clip Head to Recycle handle.
Start Early, Start Right.
Fun New Rubber Non-slip Grip Extender.
Premium RADIUS Bristles.
Tapered handles for Growing Totz.
RADIUS Smooth Oval Head.
Pressure-less Brushing.
Free...
read more
.
Categories:
Radius
,
Toothbrushes
,
オーラル デンタルケア
,
歯ブラシ
,
子供の健康
,
Уход За Полостью Рта
,
Зубные Щетки
,
Здоровье Детей
,
칫솔
,
어린이 건강
Последнее редактирование модератором: