Laud Herb in English
English-speaking LH analyst
Команда форума
Сообщения

11.375
Реакции

5
...6+ Months. Fast Flow. Safe, Sustainable & Unbreakable. BPA, PVC, Phthalate Free...
​
Full product title:
Organic Kidz, Stainless Steel Baby Bottle, Wide Mouth, Dark Blue Dots, 9 Oz (270 Ml)
Brand:
Organic Kidz
iHerb product id:
59681
Laud Herb Tag:
59681



Price:
$11.33
Extra Discount:
Yes
Free shipping:
Yes, to 150 countries
(for orders over $40)
iHerb customers rating:
3.67
iHerb customer reviews:
3
Best choice?
May be...
(see
reviews
)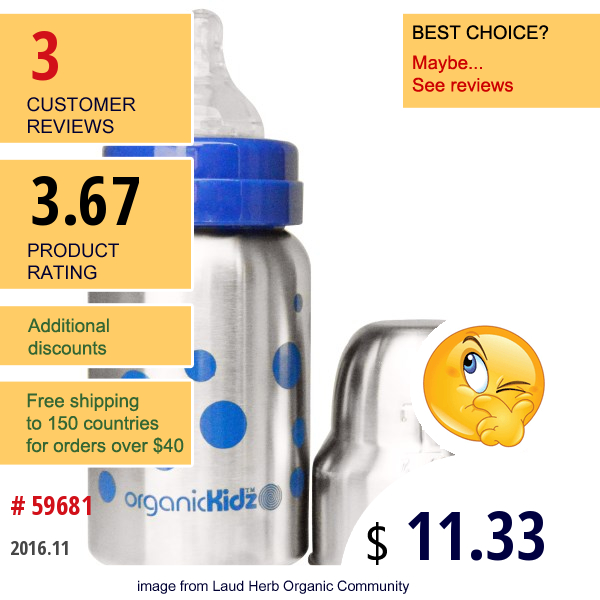 Description:
6+ Months.
Fast Flow.
Safe, Sustainable & Unbreakable.
BPA, PVC, Phthalate Free.
Healthy Child Healthy World Trusted Partner.
Award Winning Design!
Made Responsibly at an ISO Certified Factory in China.
Safer & healthier feeding products for our next generation of babies & a healthier planet for generations to come.
A safe, healthy complement to storing & feeding life bottle converts to a sippy cup with our no-spill sippy spout or a water bottle with our no-leak cap accessory.
Peristaltic vented silicone nipple.
Accordion design stretches and contorts more reducing the chance of colic.
Integrated venting...
read more
.
Categories:
Organic Kidz
,
Bottles & Nipples
Последнее редактирование модератором: