Laud Herb in English
English-speaking LH analyst
Команда форума
Сообщения

11.375
Реакции

5
...Herbal Tea. All Natural. Caffeine-Free. Ancient Chinese Medicinals. Gentle, Effective Relief...
​
Full product title:
Triple Leaf Tea, Herbal Laxative, 20 Tea Bags, 1.4 Oz (40 G)
Brand:
Triple Leaf Tea
iHerb product id:
9449
Laud Herb Tag:
9449



Price:
$3.38
Extra Discount:
Yes
Free shipping:
Yes, to 150 countries
(for orders over $40)
iHerb customers rating:
4.65
iHerb customer reviews:
69
Best choice?
May be...
(see
reviews
)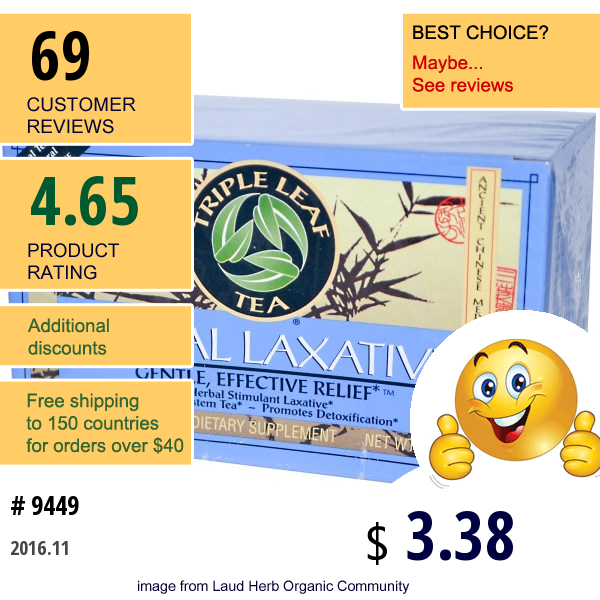 Description:
Herbal Tea.
All Natural.
Caffeine-Free.
Ancient Chinese Medicinals.
Gentle, Effective Relief.
Herbal Stimulant Laxative.
Digestive System Tea.
Promotes Detoxification.
Herbal Dietary Supplement.
The Herbal Laxative Tea Tradition.
The herbs in this traditional Chinese formula help promote regularity and provide gentle, effective overnight relief. These herbs were used to help support digestive system function and to promote the body's normal process of detoxification. Senna is an effective stimulant laxative that promotes bowel movements. Rhubarb root and sickle-pod senna seed were considered milder stimulant laxatives that complement the effects of senna. Ginger was used to lesson...
read more
.
Categories:
Triple Leaf Tea
,
Condition Specific Formulas
,
Constipation Formulas
Последнее редактирование модератором: