Laud Herb in English
English-speaking LH analyst
Команда форума
Сообщения

11.375
Реакции

5
...USDA Organic. Extra Virgin. Cold Pressed. Provides Omega-3 & 6 Polyunsaturates...
​
Full product title:
Ruths Hemp Foods, Certified Organic Hemp Oil, 16 Oz (500 Ml)
Brand:
Ruths Hemp Foods
iHerb product id:
29073
Laud Herb Tag:
29073



Price:
$14.50
Extra Discount:
Yes
Free shipping:
Yes, to 150 countries
(for orders over $40)
iHerb customers rating:
4.6
iHerb customer reviews:
10
Best choice?
May be...
(see
reviews
)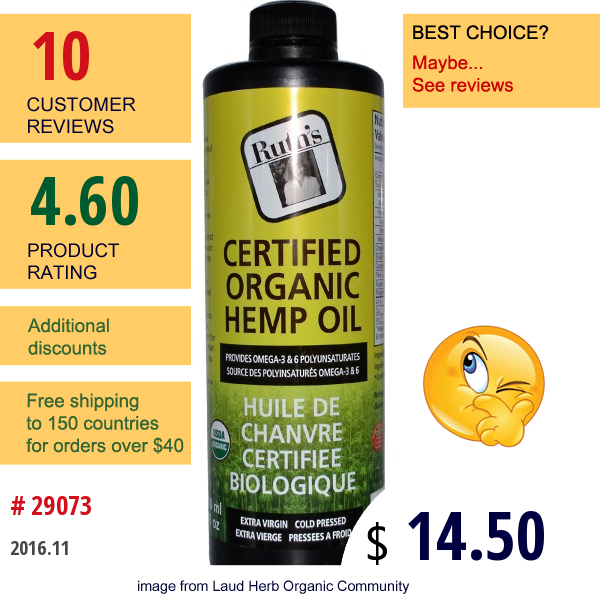 Description:
USDA Organic.
Extra Virgin.
Cold Pressed.
Provides Omega-3 & 6 Polyunsaturates.
Verified Organics.
Kosher Pareve.
Ruth's Hemp Oil.
Our Certified Organic Hemp Oil provides Omega 3, Omega 6 and Omega 9 essential fatty oils, as well as GLA. EFAs are essential for achieving and maintaining good health and overall well-being. Your body has to get EFAs directly from food, and hemp oil is a great source.
Our hemp is grown for us on family farms on the pristine Canadian prairie. It is cold-pressed in oxygen-free conditions that preserve the valuable nutrients and ensure that the oil is as good when you...
read more
.
Categories:
Hemp Products
,
Hemp Seed Oil
,
ヘンプ製品
,
ヘンプシードオイル
,
Омега 3 6 9 (Epa Dha)
,
Продукты Конопли
,
Масло Семян Конопли
,
삼 제품
,
삼씨앗 오일
Последнее редактирование модератором: