Laud Herb in English
English-speaking LH analyst
Команда форума
Сообщения

11.375
Реакции

5
...Restorative. Certified Organic by SCS. White Sage. Calming. Purifying. Antioxidant-Rich...
​
Full product title:
Pangea Organics, Body Oil, Italian White Sage & Geranium, 4 Fl Oz (118 Ml)
Brand:
Pangea Organics
iHerb product id:
25117
Laud Herb Tag:
25117



Price:
$30.00
Extra Discount:
Yes
Free shipping:
Yes, to 150 countries
iHerb customers rating:
4.1
iHerb customer reviews:
9
Best choice?
May be...
(see
reviews
)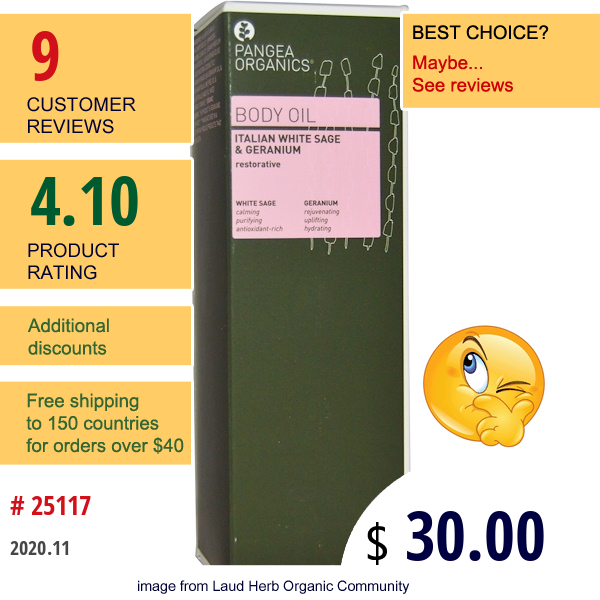 Description:
Restorative.
Certified Organic by SCS.
White Sage.
Calming.
Purifying.
Antioxidant-Rich.
Geranium.
Rejuvenating.
Uplifting.
Hydrating.
Smooth your skin, soothe your senses.
Rich in bio-available EFAs, skin-beneficial vitamins and incredible essential oil aromas, this body oil is the perfect remedy for dry skin and tense muscles. Four organic, food-grade oils comprise the base of this nutritive blend offering superior glide for massage and luxurious hydration for the body. These precious, cold-pressed oils absorb deeply and efficiently to deliver healthy, silky smooth skin.
Antioxidant-rich formulas deliver anti-aging results.
Did...
read more
.
Categories:
Pangea Organics
,
Bath & Personal Care
,
Body Care
,
Body & Massage Oils