Laud Herb in English
English-speaking LH analyst
Команда форума
Сообщения

11.375
Реакции

5
...Non-GMO. Raw. Vegan. Gluten-Free. Kosher. Circulation. - Blood Health....
​
Full product title:
Sunfood, Wild Andean Herbal Tea, Hercampuri, Wild-Crafted, 3.5 Oz (100 G)
Brand:
Sunfood
iHerb product id:
59403
Laud Herb Tag:
59403



Price:
$12.98
Extra Discount:
Yes
Free shipping:
Yes, to 150 countries
(for orders over $40)
iHerb customers rating:
3.00
iHerb customer reviews:
1
Best choice?
May be...
(see
reviews
)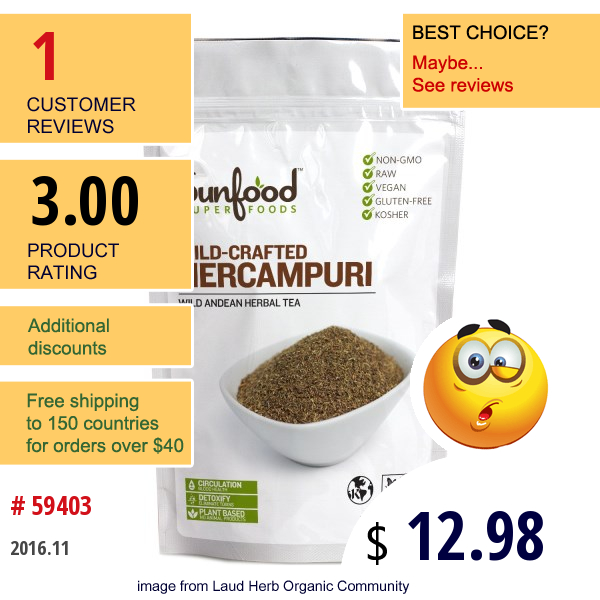 Description:
Non-GMO.
Raw.
Vegan.
Gluten-Free.
Kosher.
Circulation.
- Blood Health.
Detoxify.
- Eliminate Toxins.
Plant Based.
- No Animal Products.
Kosher.
Non GMO Project Verified.
Wild-Crafted Hercampuri Herbal Tea.
A wild Andean herb, Hercampuri has been used by the Incan people as an herbal alternative to modern medicine for hundreds of years. This powerful herbal tea has traditionally been used to support normal circulation, naturally detoxify the liver and balance cholesterol levels. Hercampuri has also been recognized by indigenous peoples for its potential to stimulate metabolism, which may assist the body's ability to break...
read more
.
Categories:
Sunfood
Последнее редактирование модератором: