Laud Herb in English
English-speaking LH analyst
Команда форума
Сообщения

11.375
Реакции

5
...Love Life. Live Clean. For All Skin Types. Paraben Free. Polysorbate Free. Disodium EDTA Free...
​
Full product title:
Eo Products, Everyday Body Lotion, Rose Geranium & Citrus, 8 Fl Oz (240 Ml)
Brand:
Eo Products
iHerb product id:
14915
Laud Herb Tag:
14915



Price:
$6.39
Extra Discount:
Yes
Free shipping:
Yes, to 150 countries
(for orders over $40)
iHerb customers rating:
4.57
iHerb customer reviews:
53
Best choice?
May be...
(see
reviews
)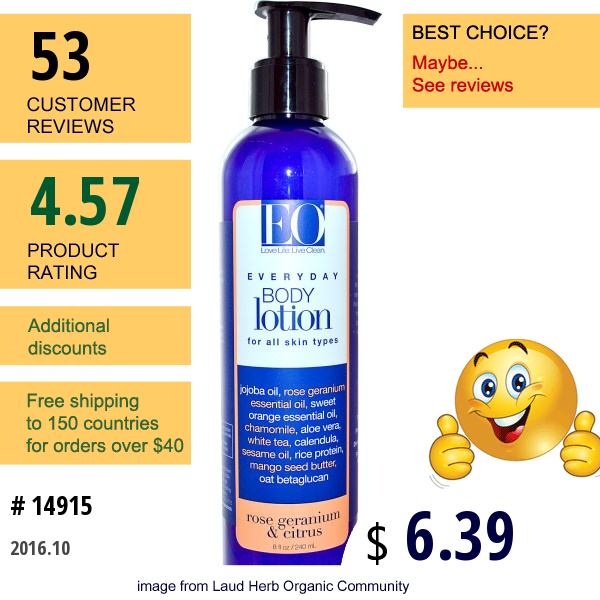 Description:
Love Life. Live Clean.
For All Skin Types.
Paraben Free.
Polysorbate Free.
Disodium EDTA Free.
Jojoba oil, rose geranium essential oil, sweet orange essential oil, chamomile, aloe vera, white tea, calendula, sesame oil, rice protein, mango seed butter, oat betaglucan.
A nourishing and protective moisturizer that applies easily and is quickly absorbed leaving skin smooth and soft.
Rose Geranium Essential Oil blends with crisp refreshing Citrus to heal and balance.
Oat Betaglucan moisturizes and soothes irritated skin and promotes skin firmness.
Rich Rice Proteins diminish fine lines.
Vitamins E and A improve skin elasticity with powerful antioxidants.
Mango Seed Butter and...
read more
.
Последнее редактирование модератором: