Laud Herb in English
English-speaking LH analyst
Команда форума
Сообщения

11.375
Реакции

5
...0 Calories. Non-Bitter. Non-GMO. Convenient Packet for the Perfect Amount of Sweetness...
​
Full product title:
Nunaturals, Nustevia, No Carbs Blend, 50 Packets, 1 Oz (29 G)
Brand:
Nunaturals
iHerb product id:
7244
Laud Herb Tag:
7244



Price:
$4.54
Extra Discount:
Yes
Free shipping:
Yes, to 150 countries
(for orders over $40)
iHerb customers rating:
4.41
iHerb customer reviews:
129
Best choice?
Absolutely!!!
(see
reviews
)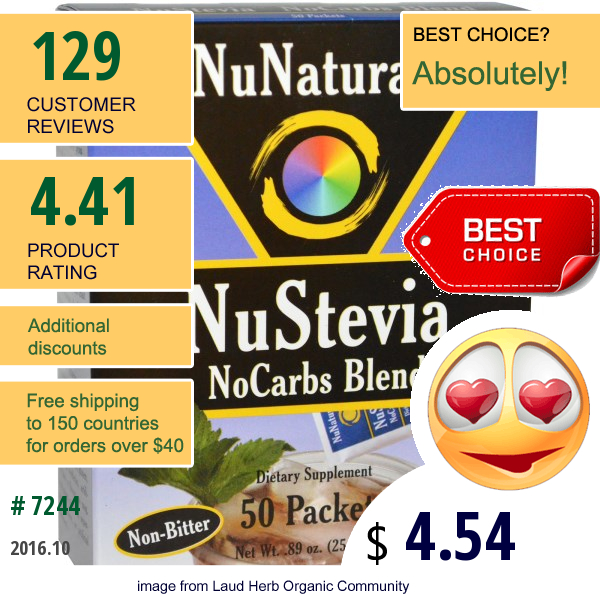 Description:
0 Calories.
Non-Bitter.
Non-GMO.
Convenient Packet for the Perfect Amount of Sweetness.
NuNaturals as Sweet as 2 Tsp. of Sugar.
Be Well.
NuNutrals NuStevia is a premium plant-based herbal sweetener that comes from the Stevia leaf, an herb native to South America. Plant-based natural flavors are added to make our NuStevia products the best-tasting ones available.
Erythritol is a zero calorie sweetener derived from Non-GMO corn used to make measuring the NuStevia extract easier. It acts as a filler so the concentrated extract can be put into packets.
NuNaturals NuStevia should not affect blood sugar levels in most individuals. NuSteiva is great for people wanting to control the calories in their diet.
It's the joy of riding your...
read more
.
Categories:
Best Choice
,
Nunaturals
,
Sweeteners
,
Stevia
,
食品
,
甘味料
,
ステビア
,
Продукты Питания
,
Подсластители
,
Стевия
,
감미료
,
스테비아
Последнее редактирование модератором: