Laud Herb in English
English-speaking LH analyst
Команда форума
Сообщения

11.375
Реакции

5
...Homeopathic. Since 1903. Natural Relief. Replenish Essential Minerals. Dissolves on Tongue or in Water...
​
Full product title:
Hylands, Bioplasma Sport With Electrolytes, Citrus Flavor, 12 Packets
Brand:
Hylands
iHerb product id:
55738
Laud Herb Tag:
55738



Price:
$10.23
Extra Discount:
Yes
Free shipping:
Yes, to 150 countries
(for orders over $40)
iHerb customers rating:
5.00
iHerb customer reviews:
1
Best choice?
May be...
(see
reviews
)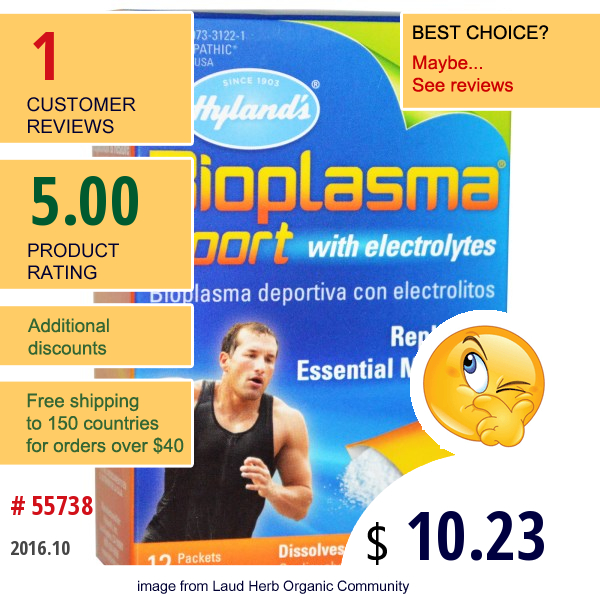 Description:
Homeopathic.
Since 1903.
Natural Relief.
Replenish Essential Minerals.
Dissolves on Tongue or in Water.
Replenish & Restore Essential Minerals.
Restore Balance to Cellular Health!
Uses.
- Restores natural minerals loss through activity. Use daily to maintain proper cell mineral balance.
There's nothing better than feeling invigorated during and after a workout. Gulps of water are a must, but when it comes to keeping your muscles free from post-workout pain, Bioplasma Sport is the go-to, on-the-go solution. The powder is developed to dissolve instantly on the tongue and enable more rapid absorption. Pouches...
read more
.
Categories:
Sports
,
Homeopathy
Последнее редактирование модератором: