Laud Herb in English
English-speaking LH analyst
Команда форума
Сообщения

11.375
Реакции

5
...For All Skin Types. With Snow Algae & Tsubaki. Our Commitment. No Synthetic Fragrances...
​
Full product title:
Eo Products, Ageless Skin Care, Hydrating Face Moisturizer, 2 Fl Oz (59 Ml)
Brand:
Eo Products
iHerb product id:
64021
Laud Herb Tag:
64021



Price:
$26.86
Extra Discount:
Yes
Free shipping:
Yes, to 150 countries
(for orders over $40)
iHerb customers rating:
4.25
iHerb customer reviews:
16
Best choice?
May be...
(see
reviews
)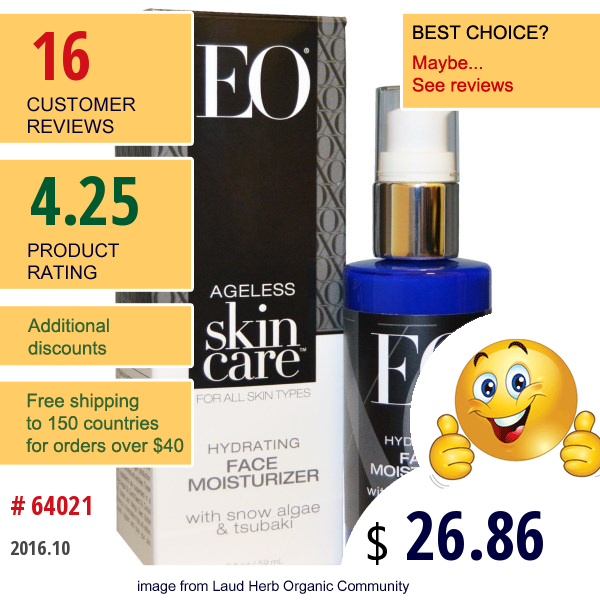 Description:
For All Skin Types.
With Snow Algae & Tsubaki.
Our Commitment.
No Synthetic Fragrances.
Cruelty Free.
Certified Gluten-Free.
GMO Free.
Certified B Corporation.
Family Owned Since 1995.
The EO Skin Care Collection.
You Are Beautiful.
Based on the essential principles of synergy, performance and beauty, the EO Skin Care Collection enters the exotic world of revolutionary active ingredients and biomimicry-guided formulations. EO brings twenty years of experience together with cutting-edge chemistry in a collection that will transform the way you see yourself. Start today for a more beautiful tomorrow.
Face Moisturizer.
Snow Algae is an extremophile found in the Swiss Alps. Its ability...
read more
.
Categories:
Eo Products
,
Bath & Beauty
,
Facial Care
,
Skin Health
,
Argan
,
Для Душа И Красоты
,
Уход За Лицом
,
Здоровье Кожи
,
Аргановое
Последнее редактирование модератором: