Laud Herb in English
English-speaking LH analyst
Команда форума
Сообщения

11.375
Реакции

5
...Since 1947. Free Form. Pro-Neurotransmitter. Promotes Mood Support. Gluten, Wheat & Dairy Free...
​
Full product title:
Solgar, L-Phenylalanine, 500 Mg, 100 Veggie Caps
Brand:
Solgar
iHerb product id:
9107
Laud Herb Tag:
9107



Price:
$19.44
Extra Discount:
Yes
Free shipping:
Yes, to 150 countries
(for orders over $40)
iHerb customers rating:
0
Best choice?
May be...
(see
reviews
)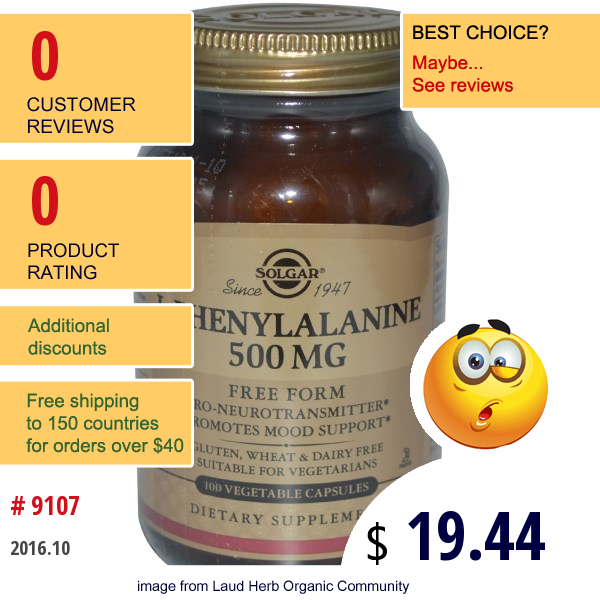 Description:
Since 1947.
Free Form.
Pro-Neurotransmitter.
Promotes Mood Support.
Gluten, Wheat & Dairy Free.
Suitable for Vegetarians.
Kosher Parve.
Dietary Supplement.
L-Phenylalanine is an essential amino acid, one which is not synthesized by the body and must be obtained through diet or supplementation. L-Phenylalanine plays a key role in the biosynthesis of tyrosine, an amino acid required for the biosynthesis of the neurotransmitters dopamine and norepinephrine....
read more
.
Categories:
Solgar
,
Amino Acids
,
L Phenylalanine
,
アミノ酸
,
L フェニルアラニン
,
Аминокислоты
,
L Фенилаланин
,
아미노산
,
L 페닐알라닌
Последнее редактирование модератором: