Laud Herb in English
English-speaking LH analyst
Команда форума
Сообщения

11.375
Реакции

5
...Myrica Cerifera. Herbal Supplement. Holistically Balanced. Since 1972. Kosher Parve...
​
Full product title:
Natures Answer, Bayberry, Bark, Organic Alcohol Fluid Extract (1:1), 1 Fl Oz (30 Ml)
Brand:
Natures Answer
iHerb product id:
49487
Laud Herb Tag:
49487



Price:
$6.36
Extra Discount:
Yes
Free shipping:
Yes, to 150 countries
(for orders over $40)
iHerb customers rating:
0
Best choice?
May be...
(see
reviews
)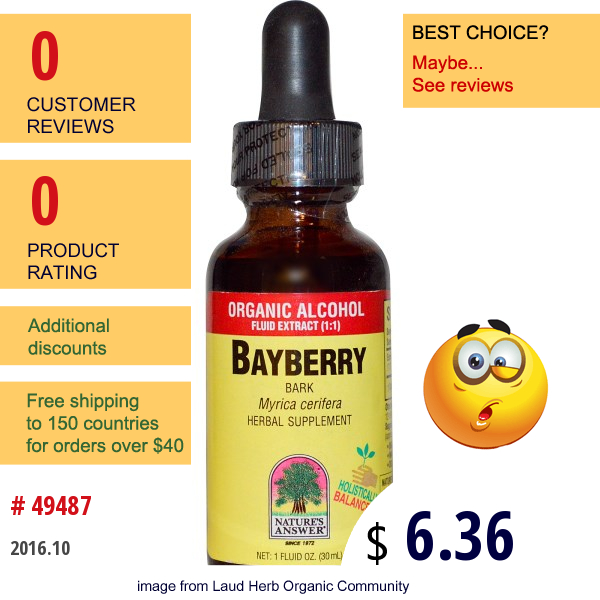 Description:
Myrica Cerifera.
Herbal Supplement.
Holistically Balanced.
Since 1972.
Kosher Parve.
Responsibly Wildcrafted Herb.
Bio-Chelated Cold Extraction Process.
Nature's Answer organic alcohol extracts are produced using alcohol, water and coconut glycerin utilizing our cold Bio-Chelated proprietary extraction process, yielding a Holistically Balanced standardized extract. Liquid extracts are absorbed faster than tablets or capsules, and are more potent than tinctures. Holistically Balanced guarantees that the constituents of the extract...
read more
.
Categories:
Herbs
,
Bayberry Bark
,
ハーブ
,
月桂樹の表皮
,
Травы
,
Кора Бейберри
,
허브
,
베이 베리 나무 껍질
Последнее редактирование модератором: