Laud Herb in English
English-speaking LH analyst
Команда форума
Сообщения

11.375
Реакции

5
...Sambucus Nigra. Herbal Supplement. Promotes Vitality. Holistically Balanced. Since 1972...
​
Full product title:
Nature'S Answer, Elder, Berry, Alcohol-Free Extract (1:1), 4 Fl Oz (120 Ml)
Brand:
Nature'S Answer
iHerb product id:
5219
Laud Herb Tag:
5219



Price:
$14.29
Extra Discount:
Yes
Free shipping:
Yes, to 150 countries
iHerb customers rating:
4.5
iHerb customer reviews:
2
Best choice?
May be...
(see
reviews
)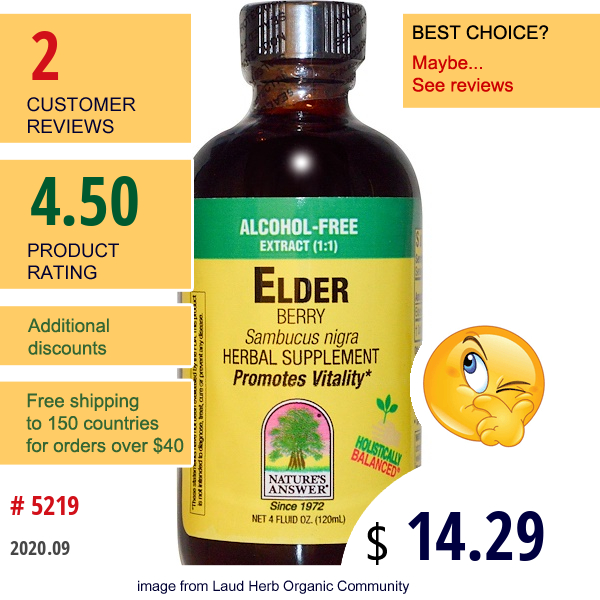 Description:
Sambucus Nigra.
Herbal Supplement.
Promotes Vitality.
Holistically Balanced.
Since 1972.
Kosher Parve.
Responsibly Wildcrafted Herb.
Bio-Chelate Cold Extraction Process.
Nature's Answer alcohol-free extracts are produced using alcohol, water & natural extractants. All alcohol & extractants are removed through our cold Bio-Chelated proprietary extraction process, yielding a Holistically Balanced extract in the same synergistic...
read more
.