Laud Herb in English
English-speaking LH analyst
Команда форума
Сообщения

11.375
Реакции

5
...No Parabens. Ideal for Healthy Skin - pH 5.5 Quality through Research. For A Feeling of Well-Being...
​
Full product title:
Sebamed Usa, Spa Shower, 6.8 Fl Oz (200 Ml)
Brand:
Sebamed Usa
iHerb product id:
70226
Laud Herb Tag:
70226



Price:
$14.37
Extra Discount:
Yes
Free shipping:
Yes, to 150 countries
iHerb customers rating:
5.00
iHerb customer reviews:
1
Best choice?
May be...
(see
reviews
)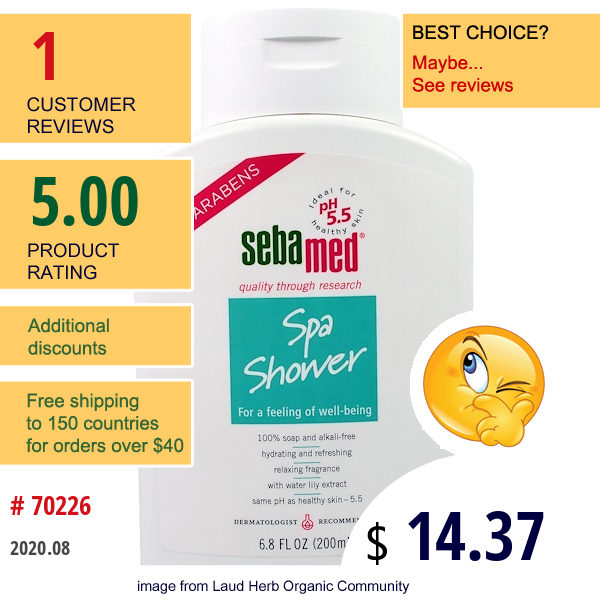 Description:
No Parabens.
Ideal for Healthy Skin - pH 5.5.
Quality through Research.
For A Feeling of Well-Being.
100% Soap & Alkali-Free.
Hydrating and Refreshing.
Relaxing Fragrance.
With Water Lily Extract.
Same pH as Healthy Hair - 5.5.
Dermatologist Recommended.
Nearly 100% Biodegradable.
Cruelty Free.
Sebamed Spa Shower utilizes the moisture building capacity of water lily extract to enhance hydration and maintain the moisture balance of the skin during showering. A balanced skin care complex with allantoin revitalizes the skin and protects against dehydration. The skin is refreshed and feels perceptibly smoother. Its pH value of 5.5 supports the barrier function of the skin's acid mantle.
Every...
read more
.
Categories:
Sebamed Usa
,
Bath & Personal Care
,
Bath & Shower
,
Body Wash & Shower Gel
,
Bath Salts & Oils