Laud Herb in English
English-speaking LH analyst
Команда форума
Сообщения

11.375
Реакции

5
...20 Bars in a Box. Manufactured With Renewable Energy. Halal. Vegetarian. Kosher...
​
Full product title:
Oskri, Granola Bar, Pecans And Raisins, 20 Bars, 1.5 Oz (43 G) Each
Brand:
Oskri
iHerb product id:
35527
Laud Herb Tag:
35527



Price:
$19.20
Extra Discount:
Yes
Free shipping:
Yes, to 150 countries
(for orders over $40)
iHerb customers rating:
5.00
iHerb customer reviews:
1
Best choice?
May be...
(see
reviews
)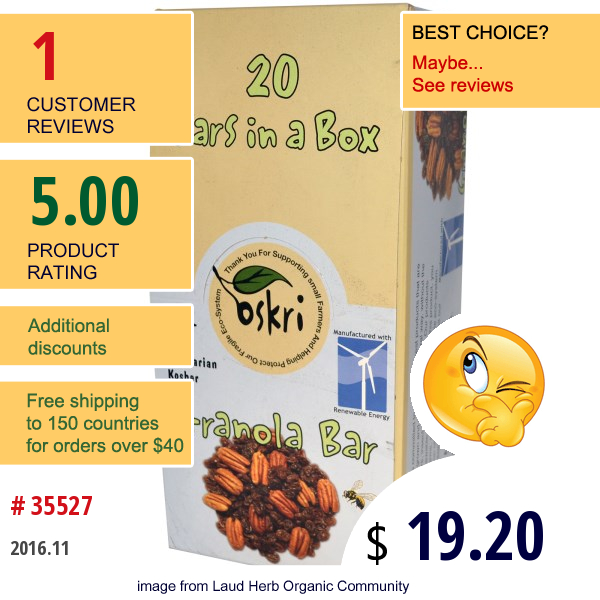 Description:
20 Bars in a Box.
Manufactured With Renewable Energy.
Halal.
Vegetarian.
Kosher.
Thank You for Helping Protect Our Fragile Eco-System.
Gluten Free.
Lactose Free.
Oskri is committed to offering the best products that are grown and prepared in a natural way, without the use of chemicals fertilizers, insecticides, and herbicides. Our products are produced using renewable wind energy. By buying this product,...
read more
.
Последнее редактирование модератором: