Laud Herb in English
English-speaking LH analyst
Команда форума
Сообщения

11.375
Реакции

5
...Validated Gluten Free, Soy Free. For Healthy Liver Function. Vegetarian. Dietary Supplement...
​
Full product title:
Megafood, Therapeutix, Liver Strength, 90 Tablets
Brand:
Megafood
iHerb product id:
13921
Laud Herb Tag:
13921



Price:
$46.80
Extra Discount:
Yes
Free shipping:
Yes, to 150 countries
(for orders over $40)
iHerb customers rating:
5.00
iHerb customer reviews:
5
Best choice?
May be...
(see
reviews
)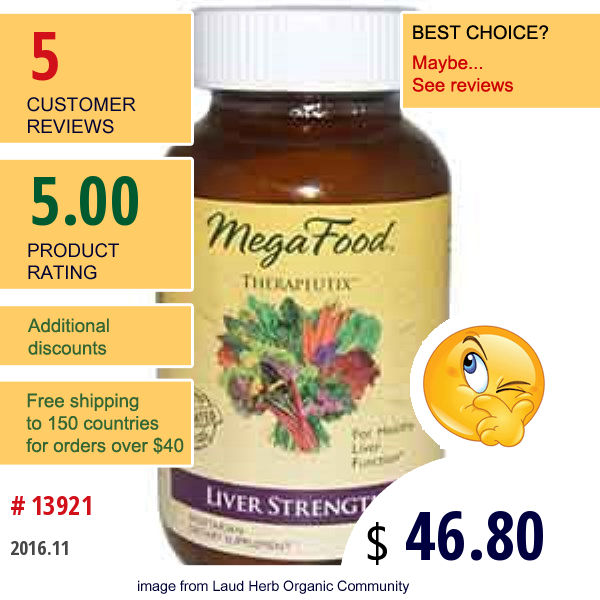 Description:
Validated Gluten Free, Soy Free.
For Healthy Liver Function.
Vegetarian.
Dietary Supplement.
Our Name is Our Promise.
MegaFood has made the highest quality whole food supplements since 1973.
Liver Strength.
Liver Strength promotes liver health and function with prized Organic Purple Reishi Antler. Grown on anthocyanin-rich purple kculli corn, a non-GMO heirloom strain, Purple Reishi Antler provides revitalizing and protective nourishment for healthy liver cells. Made with certified organic ingredients and tested to be free of pesticides and herbicides, Liver Strength is a pure rejuvenating elixir for the liver. Purple Reishi Antler is a highly prized and rare form of this medicinal mushroom. The antler - in particular - displays...
read more
.
Последнее редактирование модератором: