Laud Herb in English
English-speaking LH analyst
Команда форума
Сообщения

11.375
Реакции

5
...Chocolate Butter. Certified Organic. Mayan Superfood. Food for The Modern Life....
​
Full product title:
Navitas Naturals, Organic, Cacao Butter, 16 Oz (454 G)
Brand:
Navitas Naturals
iHerb product id:
12768
Laud Herb Tag:
12768



Price:
$23.98
Extra Discount:
Yes
Free shipping:
Yes, to 150 countries
(for orders over $40)
iHerb customers rating:
4.82
iHerb customer reviews:
161
Best choice?
Absolutely!!!
(see
reviews
)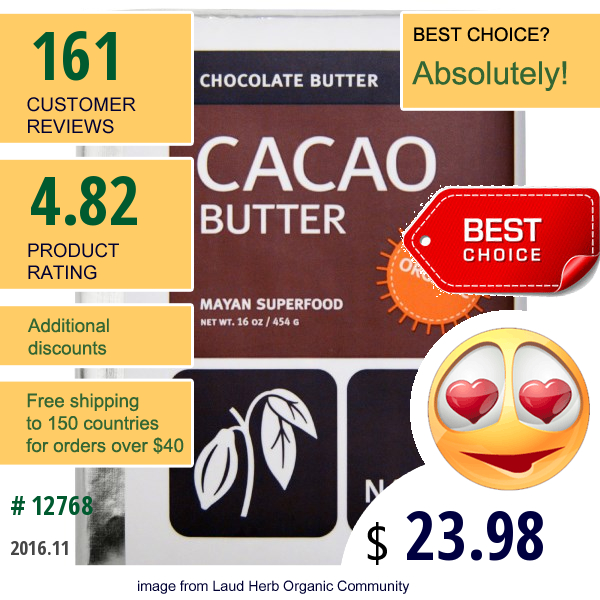 Description:
Chocolate Butter.
Certified Organic.
Mayan Superfood.
Food for The Modern Life.
Non GMO Project Verified.
Kosher.
USDA Organic.
Certified Organic by Control Union Certifications.
Chocolate Butter.
Cacao has been enjoyed for its healthful and invigorating properties in South American cultures for thousands of years. This block contains premium cacao butter that is certified organic, kosher, non-gmo and gluten-free.
Cacao butter is made by cold pressing ground cacao nibs which separates the thick and creamy butter from the fibrous powder. Low temperature processing the plant's valuable nutrients.
At Navitas Naturals, The Superfood Company, we provide the most nutrient dense foods to nourish...
read more
.
Categories:
Best Choice
,
Navitas Naturals
,
Heat Sensitive Products
Последнее редактирование модератором: