Laud Herb in English
English-speaking LH analyst
Команда форума
Сообщения

11.375
Реакции

5
...New. Results Guaranteed. Leaves Skin Hair-Free and Silky Smooth. No Pain. No Chemicals...
​
Full product title:
Hairoff, Hair Remover Mitten, 3 In 1, Cucumber Melon Scent, 3 Pack
Brand:
Hairoff
iHerb product id:
27396
Laud Herb Tag:
27396



Price:
$5.80
Extra Discount:
Yes
Free shipping:
Yes, to 150 countries
(for orders over $40)
iHerb customers rating:
2.52
iHerb customer reviews:
23
Best choice?
May be...
(see
reviews
)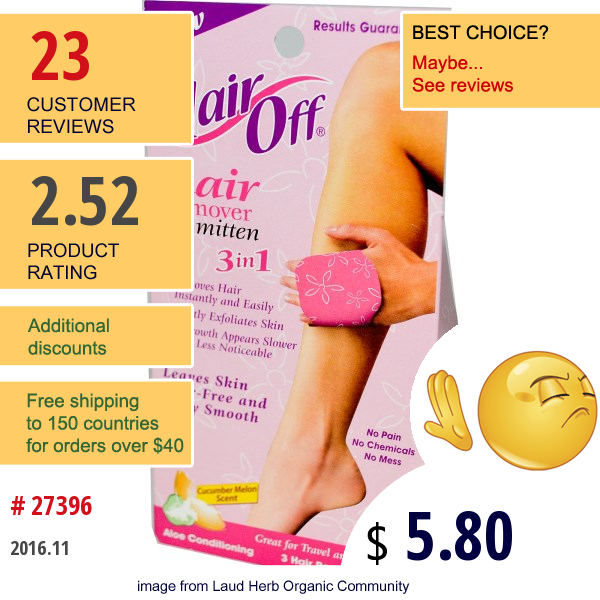 Description:
New.
Results Guaranteed.
Leaves Skin Hair-Free and Silky Smooth.
No Pain.
No Chemicals.
No Mess.
Great for Travel and Touch-Ups.
Aloe Conditioning.
3 in 1.
Removes Hair Instantly and Easily.
Gently Exfoliates Skin.
Regrowth Appears Slower and Less Noticeable.
This is it: The revolutionary all-natural treatment that makes traditional hair removal products a thing of the past. Say goodbye to nicks, stubble and harsh odors and discover the secret of millions of women around the world.
Unlike painful waxing, razors or harsh chemicals, the Hair Off Remover Mitten gently massages away unwanted hair, exfoliates your skin and leaves it feeling silky and smooth. Best...
read more
.
Categories:
Hairoff
,
Skin Health
,
Shaving
,
肌の健康
,
ひげそり
,
ワックスストリップ、脱毛、除毛
,
Здоровье Кожи
,
Бритье
,
피부 건강
,
면도
Последнее редактирование модератором: