Laud Herb in English
English-speaking LH analyst
Команда форума
Сообщения

11.375
Реакции

5
...Herbal Supplement. Standardized Extracts. Supporting Women's Hormonal Balance....
​
Full product title:
Now Foods, Red Clover/black Cohosh, 225 Mg/40 Mg, 60 Vcaps
Brand:
Now Foods
iHerb product id:
768
Laud Herb Tag:
768



Price:
$14.01
Extra Discount:
Yes
Free shipping:
Yes, to 150 countries
(for orders over $40)
iHerb customers rating:
4.00
iHerb customer reviews:
20
Best choice?
May be...
(see
reviews
)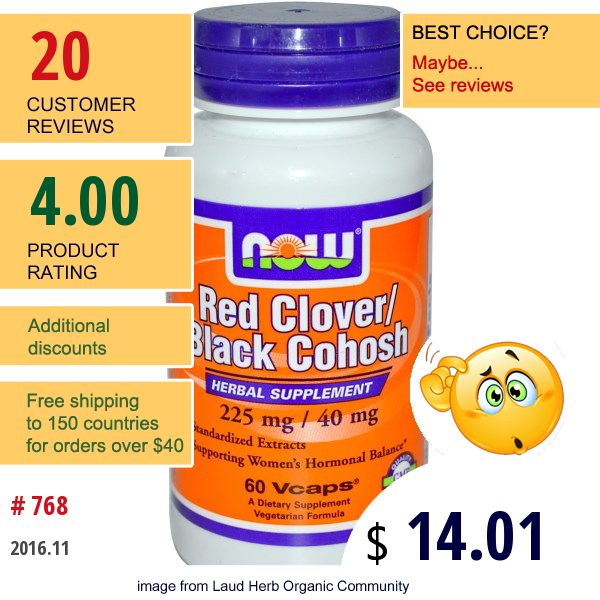 Description:
Herbal Supplement.
Standardized Extracts.
Supporting Women's Hormonal Balance.
GMP Quality Assured.
A Dietary Supplement.
Vegetarian Formula.
Black Cohosh (Cimicifuga racemosa) is an herb that has been traditionally used by Native Americans to alleviate the symptoms of menopause and other female complaints. Red clover (trifolium pratense) is an herb particularly rich in biologically active compounds that are recognized for their role in the support of healthy estrogen levels. Therefore, NOW's synergistic combination of black...
read more
.
Последнее редактирование модератором: