Laud Herb in English
English-speaking LH analyst
Команда форума
Сообщения

11.375
Реакции

5
...Organic. Since 1961 Monde Selection Bruxelles 2010 International Institute for Quality Selections...
​
Full product title:
Hot Kid, Baby Mum-Mum, Organic Rice Rusks, Original, 24 Rusks, 1.76 Oz (50 G)
Brand:
Hot Kid
iHerb product id:
57976
Laud Herb Tag:
57976



Price:
$4.10
Extra Discount:
Yes
Free shipping:
Yes, to 150 countries
(for orders over $40)
iHerb customers rating:
4.86
iHerb customer reviews:
7
Best choice?
May be...
(see
reviews
)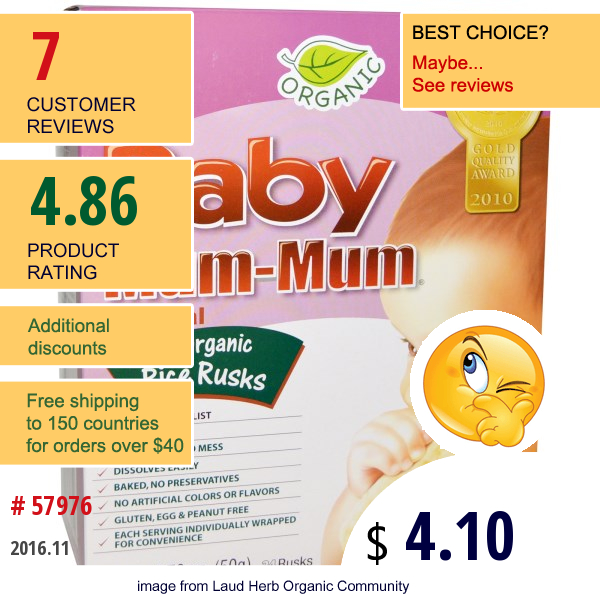 Description:
Organic.
Since 1961.
Monde Selection Bruxelles.
2010 International Institute for Quality Selections.
Gold Quality Award 2010.
USDA Organic.
Certified Organic by EcoCert SA.
Parents' Checklist.
Organic.
Great Taste, No Mess.
Dissolves Easily.
Baked, No Preservatives.
No Artificial Colors or Flavors.
Gluten, Egg & Peanut Free.
Each Serving Individually Wrapped For Convenience.
About Hot-Kid Organic.
Hot-Kid Organic is introducing Baby Mum-Mum and Toddler Mum-Mum so that your child can begin their life snacking on foods the way it was intended by Nature - tasting great while respecting our environment...
read more
.
Categories:
Hot Kid
,
Baby Snacks & Finger Foods
Последнее редактирование модератором: