Laud Herb in English
English-speaking LH analyst
Команда форума
Сообщения

11.375
Реакции

5
...The Energy Supplements. High Potency. Dietary Supplement. Cal 1200 mg/Mag 600 mg/Vit D3 1000 IU...
​
Full product title:
Natures Plus, Cal/mag/vit D3, With Vitamin K2, 180 Tablets
Brand:
Natures Plus
iHerb product id:
21406
Laud Herb Tag:
21406



Price:
$27.29
Extra Discount:
Yes
Free shipping:
Yes, to 150 countries
(for orders over $40)
iHerb customers rating:
3.93
iHerb customer reviews:
15
Best choice?
May be...
(see
reviews
)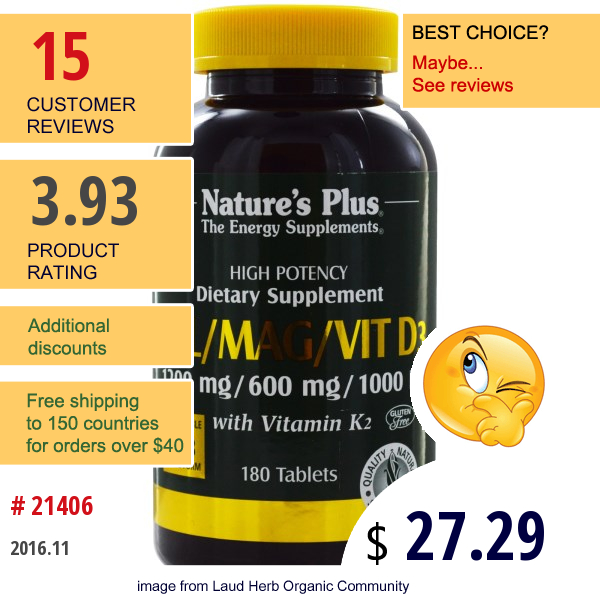 Description:
The Energy Supplements.
High Potency.
Dietary Supplement.
Cal 1200 mg/Mag 600 mg/Vit D3 1000 IU.
Gluten Free.
Bioavailable D3 Active Form.
Quality Natural Supplements.
Purity Guaranteed - Meets Strict Government Safety Standards for Heavy Metals & Toxins.
Nutritional Support for Healthy Bones, Natural Energy Production and Overall Well-Being.
Nature's Plus Cal / Mag / Vit D3 with Vitamin K2 fuses core synergistic essential nutrients for unparalleled bone health support. Biotron-chelated calcium and magnesium work dynamically with the most powerful, most bioavailable forms of vitamin D3 and...
read more
.
Categories:
Minerals
,
Calcium
,
Calcium Formulas
,
Calcium & Magnesium
Последнее редактирование модератором: