Laud Herb in English
English-speaking LH analyst
Команда форума
Сообщения

11.375
Реакции

5
...Wellness Support. Since 1928. Gluten Free. No Preservatives. All Natural. Dietary Supplement...
​
Full product title:
Mt. Capra, Vital Energy, 90 Caplets
Brand:
Mt. Capra
iHerb product id:
3107
Laud Herb Tag:
3107



Price:
$22.46
Extra Discount:
Yes
Free shipping:
Yes, to 150 countries
(for orders over $40)
iHerb customers rating:
4.58
iHerb customer reviews:
12
Best choice?
May be...
(see
reviews
)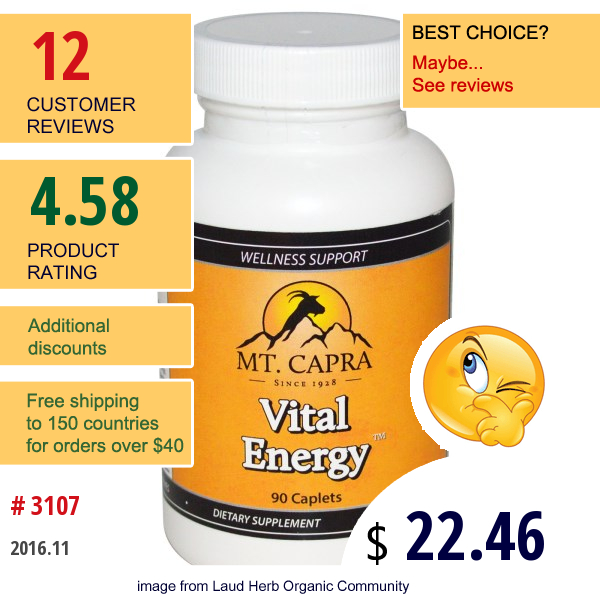 Description:
Wellness Support.
Since 1928.
Gluten Free.
No Preservatives.
All Natural.
Dietary Supplement.
Vital Energy has been formulated for those looking to boost mental/physical energy, increase wellness and stamina, and provide comprehensive nutritional support utilizing 5 synergistic blends made of wholefoods, botanicals, and herbal...
read more
.
Categories:
Energy Formulas
,
エネルギー、疲労
,
エネルギーフォーミュラ
,
Формулы Для Энергии
,
에너지 보충제
Последнее редактирование модератором: