Laud Herb in English
English-speaking LH analyst
Команда форума
Сообщения

11.375
Реакции

5
...Since 1932. Innovative Quality. Molecularly Distilled Fish Oil. Borage/Fish/Flax....
​
Full product title:
Kal, Ultra Omega 3·6·9, 200 Softgels
Brand:
Kal
iHerb product id:
19010
Laud Herb Tag:
19010



Price:
$31.57
Extra Discount:
Yes
Free shipping:
Yes, to 150 countries
(for orders over $40)
iHerb customers rating:
0
Best choice?
May be...
(see
reviews
)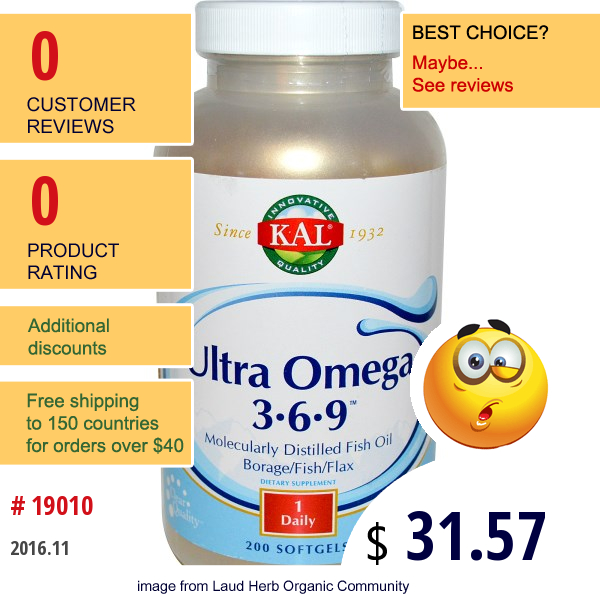 Description:
Since 1932.
Innovative Quality.
Molecularly Distilled Fish Oil.
Borage/Fish/Flax.
Dietary Supplement.
1 Daily.
Clear Quality.
Discussion:
Today's North America diet is typically low in Omega 3. A shortage of Omega 3 in the diet disrupts the balance of Essential Fatty Acids in the body. This formula provides a delicate balance of Omega 3, Omega 6 and Omega 9 with added Vitamin E to help prevent oxidation. Borage and organic flax seed oils are cold pressed and solvent free. Molecularly Distilled fish oil comes from cold water fish. KAL fish oils go through a purity process,...
read more
.
Последнее редактирование модератором: