Laud Herb in English
English-speaking LH analyst
Команда форума
Сообщения

11.375
Реакции

5
...Maximum Potency. One Daily. Dietary Supplement. Vegetarian. Discover Natural Balance...
​
Full product title:
Natural Balance, Cran Balance, Urinary Tract Health, 30 Veggie Caps
Brand:
Natural Balance
iHerb product id:
5396
Laud Herb Tag:
5396



Price:
$10.19
Extra Discount:
Yes
Free shipping:
Yes, to 150 countries
(for orders over $40)
iHerb customers rating:
4.5
iHerb customer reviews:
6
Best choice?
May be...
(see
reviews
)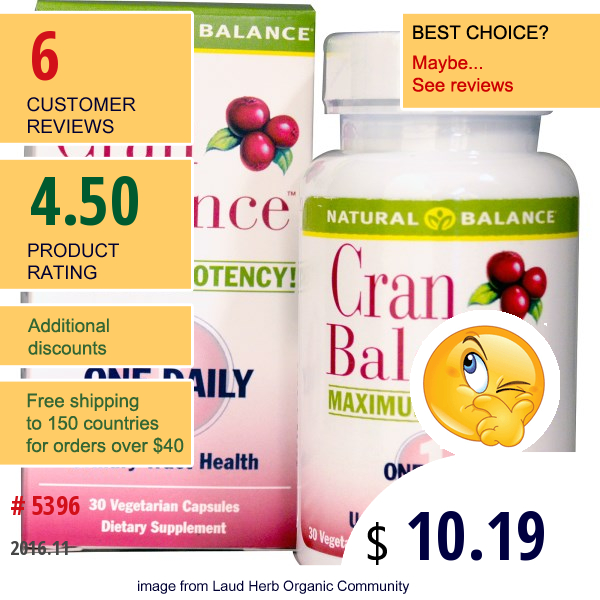 Description:
Maximum Potency.
One Daily.
Dietary Supplement.
Vegetarian.
Discover Natural Balance.
For over 20 years Natural Balance has energized people's health and well-being by offering specialty supplements that work. Scientifically blending, select, high-quality herbs into proprietary formulas is our art. Helping people live healthier, more enjoyable lives is our passion.
Maximum Strength Cranberry!
CranBalance supplement offers a convenient way to provide nutritive support for urinary tract health. Just one CranBalance capsule per day offers all the benefits you expect from a cranberry supplement.
For...
read more
.
Categories:
Natural Balance
,
Herbs
,
Cranberry
,
クランベリー
,
Клюква
,
크랜베리
Последнее редактирование модератором: