Laud Herb in English
English-speaking LH analyst
Команда форума
Сообщения

11.375
Реакции

5
...100% Pure Powder. Natural Thickener. A Gluten-Free Food. Your Recipe's Secret Ingredient...
​
Full product title:
Now Foods, Real Food, Guar Gum, 8 Oz (227 G)
Brand:
Now Foods
iHerb product id:
619
Laud Herb Tag:
619



Price:
$6.10
Extra Discount:
Yes
Free shipping:
Yes, to 150 countries
(for orders over $40)
iHerb customers rating:
4.62
iHerb customer reviews:
74
Best choice?
May be...
(see
reviews
)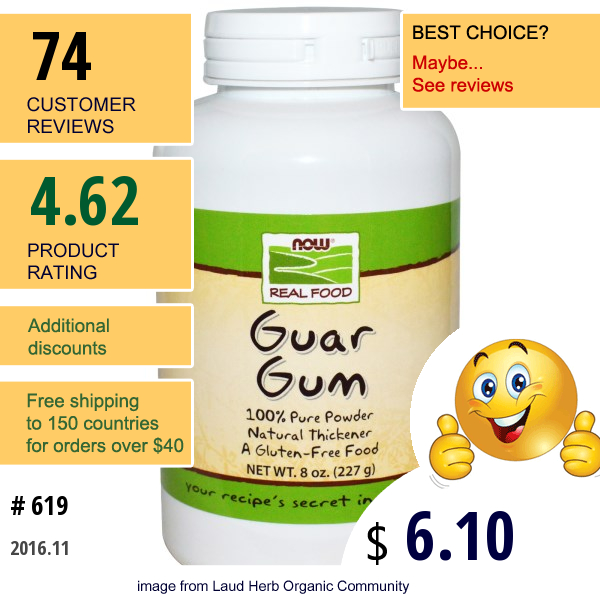 Description:
100% Pure Powder.
Natural Thickener.
A Gluten-Free Food.
Your Recipe's Secret Ingredient.
Vegetarian/Vegan Product.
Derived from the little-known guar bean, Guar Gum is a natural thickening agent used extensively in the commercial food industry. At the consumer level it's most commonly used when baking with whole grain flours that typically don't rise due to their lack of gluten.
NOW Real Food Guar Gum improves the thickness of whole grain and gluten-free flours, allowing them to rise and take on the light, fluffy consistency of more common baked goods. It's also an excellent addition to sauces and salad dressings.
Because you are what you eat, NOW Real Food has...
read more
.
Categories:
Now Foods
,
Fiber
,
Guar Gum
,
섬유질
,
구아 검
Последнее редактирование модератором: