Laud Herb in English
English-speaking LH analyst
Команда форума
Сообщения

11.375
Реакции

5
...A Dietary Supplement. Nutritional Brands. Non GMO. Gluten-Free. Certified Vegan...
​
Full product title:
Pure Vegan, Mag O7, The Ultimate Oxygenating Digestive System Cleanser, 120 Veggie Caps
Brand:
Pure Vegan
iHerb product id:
17759
Laud Herb Tag:
17759



Price:
$29.70
Extra Discount:
Yes
Free shipping:
Yes, to 150 countries
(for orders over $40)
iHerb customers rating:
4.33
iHerb customer reviews:
33
Best choice?
May be...
(see
reviews
)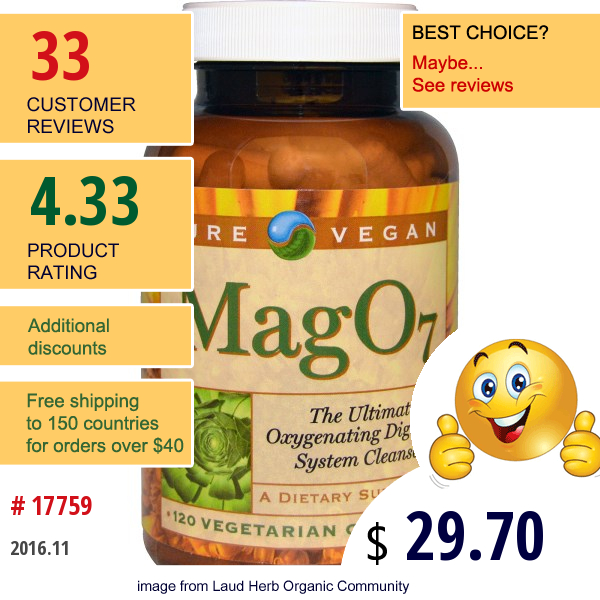 Description:
A Dietary Supplement.
Nutritional Brands.
Non GMO.
Gluten-Free.
Certified Vegan.
Mag O7 is a specially formulated magnesium based compound which has been ozonated and stabilized to release Reactive Oxygen Species (ROS) when used as directed. Mag O7 has a stool softening effect, which eliminates the digestive tract of unwanted debris. Mag 07 aids the digestive process by slowly releasing beneficial ROS which helps...
read more
.
Categories:
Pure Vegan
,
Colon Cleanse Formulas
Последнее редактирование модератором: