Laud Herb in English
English-speaking LH analyst
Команда форума
Сообщения

11.375
Реакции

5
...Since 1932. Innovative Quality. Dietary Supplement. 1 Daily. Vegetarian. Sustained Release...
​
Full product title:
Kal, Pantothenic Acid, 1000 Mg, 100 Tablets
Brand:
Kal
iHerb product id:
21294
Laud Herb Tag:
21294



Price:
$17.06
Extra Discount:
Yes
Free shipping:
Yes, to 150 countries
(for orders over $40)
iHerb customers rating:
4.00
iHerb customer reviews:
2
Best choice?
May be...
(see
reviews
)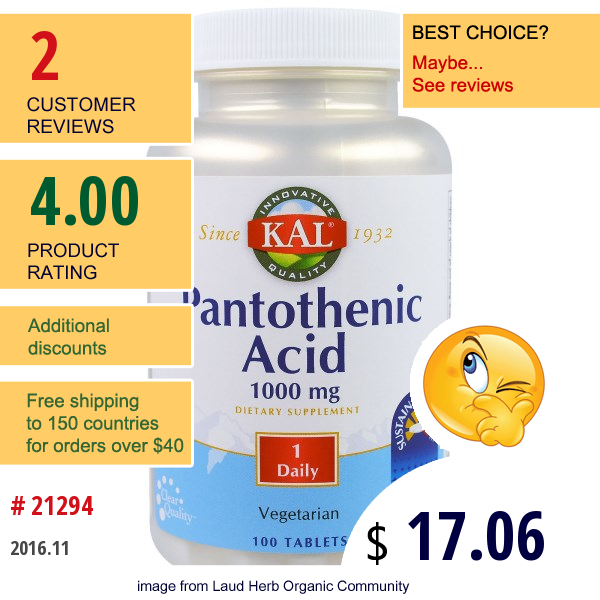 Description:
Since 1932.
Innovative Quality.
Dietary Supplement.
1 Daily.
Vegetarian.
Sustained Release.
Clear Quality.
Pantothenic Acid plans an important role in energy and release, and is intended to provide nutritive support for normal, healthy metabolism of carbohydrates, proteins and fat. Vegetarian formula is sustained release tablets.
Suggested...
read more
.
Categories:
Kal
Последнее редактирование модератором: