Laud Herb in English
English-speaking LH analyst
Команда форума
Сообщения

11.375
Реакции

5
...New & Improved. Standardized. 18% Oleuropein. Herbal Supplement. Kosher Parve...
​
Full product title:
Bluebonnet Nutrition, Olive Leaf, Herb Extract, 120 Vcaps
Brand:
Bluebonnet Nutrition
iHerb product id:
14643
Laud Herb Tag:
14643



Price:
$22.36
Extra Discount:
Yes
Free shipping:
Yes, to 150 countries
(for orders over $40)
iHerb customers rating:
4.25
iHerb customer reviews:
4
Best choice?
May be...
(see
reviews
)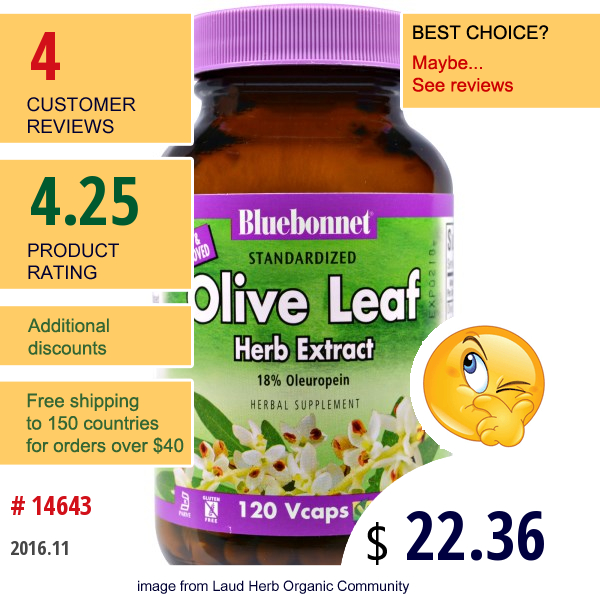 Description:
New & Improved.
Standardized.
18% Oleuropein.
Herbal Supplement.
Kosher Parve.
Gluten Free.
Vegan.
Sustainably Wildcrafted.
Bluebonnet's Standardized Olive Leaf Herb Extract Capsules provide a standardized extract of oleuropein, the most researched active constituent found in olive leaf. A clean and gentle water-based extraction method is employed to capture and preserve olive leaf's most valuable components. Available in easy-to-swallow vegetable...
read more
.
Categories:
Bluebonnet Nutrition
,
Olive Leaf
Последнее редактирование модератором: