Laud Herb in English
English-speaking LH analyst
Команда форума
Сообщения

11.375
Реакции

5
...Validated Gluten Free, Soy Free. Promotes Healthy Immunity. Vegetarian. Dietary Supplement...
​
Full product title:
Megafood, Therapeutix, Maitakegold 404, 90 Tablets
Brand:
Megafood
iHerb product id:
4053
Laud Herb Tag:
4053



Price:
$63.60
Extra Discount:
Yes
Free shipping:
Yes, to 150 countries
(for orders over $40)
iHerb customers rating:
0
Best choice?
May be...
(see
reviews
)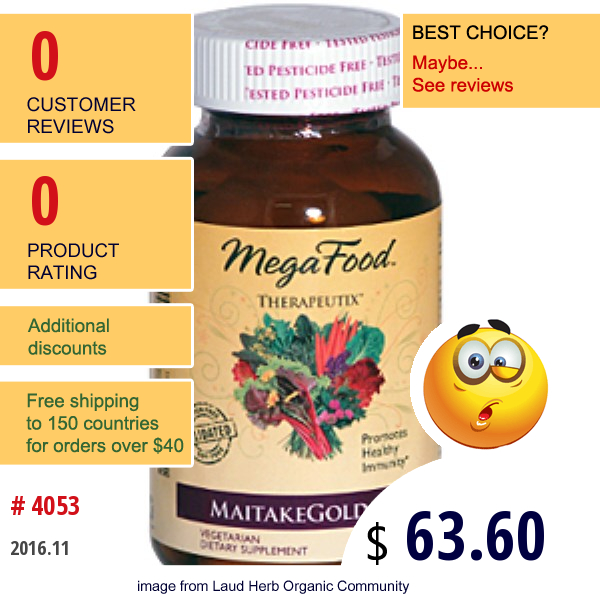 Description:
Validated Gluten Free, Soy Free.
Promotes Healthy Immunity.
Vegetarian.
Dietary Supplement.
Enhancing and maintaining a healthy immune system is vitality important for optimum heath and well-being. MaitakeGold 404, a clinically studied maitake mushroom extract, and 100 % whole food vitamin C from fresh whole orange work together to promote healthy immune function and cellular health. The MaitakeGold 404 formula is further enriched with an array if restorative and immune-boosting organic mushrooms. Taken daily, MaitakeGold 404 provides safe dependable, healthy immune support for you and your family.
Driven by food, MaitakeGold 404 is easy-to-digest and gentle on the stomach.
Easy-to-digest...
read more
.
Последнее редактирование модератором: