Laud Herb in English
English-speaking LH analyst
Команда форума
Сообщения

11.375
Реакции

5
...Gluten Free. Non GMO. 3 g Fiber 100% Natural. Good Source of Fiber. Crunchy and We Know It!...
​
Full product title:
Bare Fruit, Crunchy Coconut Chips, Show Me The Honey, 1.4 Oz (40 G)
Brand:
Bare Fruit
iHerb product id:
59837
Laud Herb Tag:
59837



Price:
$2.19
Extra Discount:
Yes
Free shipping:
Yes, to 150 countries
(for orders over $40)
iHerb customers rating:
4.67
iHerb customer reviews:
15
Best choice?
May be...
(see
reviews
)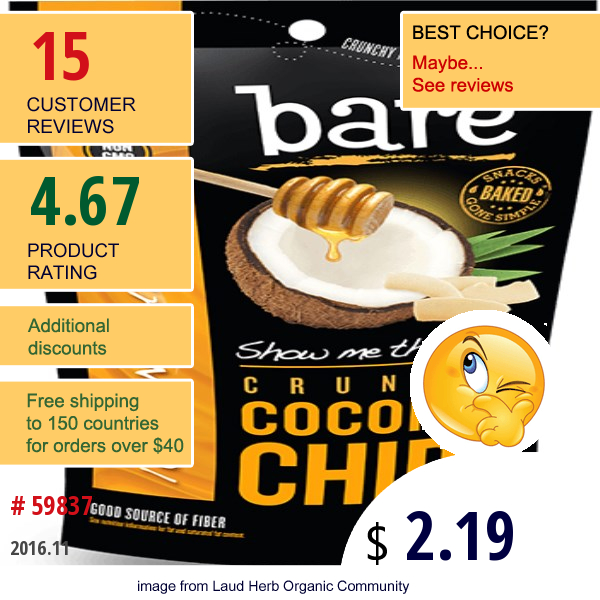 Description:
Gluten Free.
Non GMO.
3 g Fiber.
100% Natural.
Good Source of Fiber.
Crunchy and We Know It!
Snacks Baked Gone Simple.
Delicious, Meet Nutritious!
Discover a whole new way to enjoy the amazing taste of tropical coconuts. Crafted in small batches, our coconuts are toasted to perfection with just a touch of honey. When you are craving something delicious, reach for crunchy goodness-reach for bare. Snacks gone simple.  .
Get Crunchy!
A great anytime snack when you're in the car, at your desk or simply on the go!  .
Toss into salads.
Add to trail mix.
Mix into yogurt.
Sprinkle...
read more
.
Categories:
Bare Fruit
,
Dried Fruit
Последнее редактирование модератором: