Laud Herb in English
English-speaking LH analyst
Команда форума
Сообщения

11.375
Реакции

5
...Biodegradable Tough on Grease. Natural Concentrated Never Tested on Animals...
​
Full product title:
Method, Dish Soap, Lemon Mint, 18 Fl Oz (532 Ml)
Brand:
Method
iHerb product id:
58572
Laud Herb Tag:
58572



Price:
$3.98
Extra Discount:
Yes
Free shipping:
Yes, to 150 countries
(for orders over $40)
iHerb customers rating:
4.34
iHerb customer reviews:
29
Best choice?
May be...
(see
reviews
)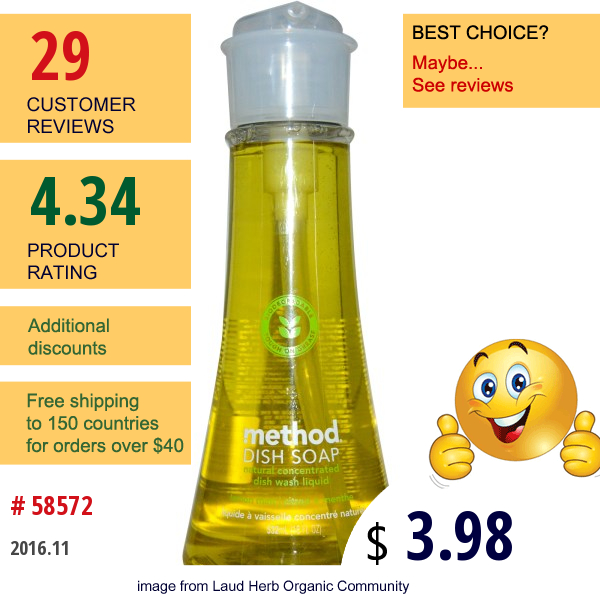 Description:
Biodegradable.
Tough on Grease.
Natural Concentrated.
Never Tested on Animals.
A little goes a long way with our concentrated dish soap. All you need is a pump on the sponge or in the sink, and the naturally derived, biodegradable cleaners get rid of tough grease. Voila! The dishes are done.
Suggested Use.
To...
read more
.
Categories:
Method
,
Healthy Home & Garden
,
Dishwashing
,
Dish Soap
Последнее редактирование модератором: