Laud Herb in English
English-speaking LH analyst
Команда форума
Сообщения

11.375
Реакции

5
...All Natural Asian Cuisine. Gluten Free. No Preservatives. Made with 100% Whole Grain...
​
Full product title:
Annie Chuns, Pad Thai, Brown Rice Noodles, 8 Oz (227 G)
Brand:
Annie Chuns
iHerb product id:
31593
Laud Herb Tag:
31593



Price:
$3.79
Extra Discount:
Yes
Free shipping:
Yes, to 150 countries
(for orders over $40)
iHerb customers rating:
4.58
iHerb customer reviews:
53
Best choice?
May be...
(see
reviews
)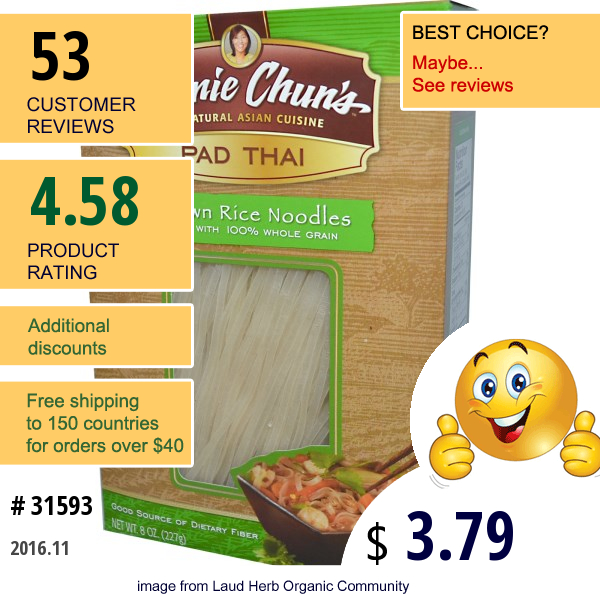 Description:
All Natural Asian Cuisine.
Gluten Free.
No Preservatives.
Made with 100% Whole Grain.
Good Source of Dietary Fiber.
The Irresistible Flavor & Texture of Asian Noodles.
These Pad Thai brown rice noodles are perfect for making Thailand's national dish, Pad Thai, right at home. They're also great in all kinds of other dishes, from soups and stir-fries to cold noodles salads. Toss them with any of our Annie Chun's Sauces to make a quick, satisfying hot or cold meal in less than five minutes.
Our brown rice noodles are made with 100% whole grain, are gluten-free,...
read more
.
Categories:
Pasta & Soup
,
Noodles
,
Rice
,
Brown Rice
Последнее редактирование модератором: