Laud Herb in English
English-speaking LH analyst
Команда форума
Сообщения

11.375
Реакции

5
...Since 1947. Sublingual. With Dibencozide (Coenzyme B12). Gluten, Wheat & Dairy Free...
​
Full product title:
Solgar, Vitamin B12, 5000 Mcg, 60 Nuggets
Brand:
Solgar
iHerb product id:
14768
Laud Herb Tag:
14768



Price:
$16.96
Extra Discount:
Yes
Free shipping:
Yes, to 150 countries
(for orders over $40)
iHerb customers rating:
4.00
iHerb customer reviews:
4
Best choice?
May be...
(see
reviews
)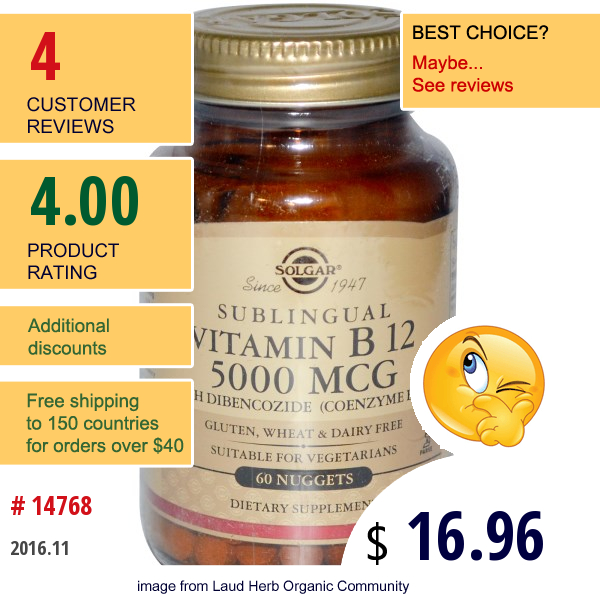 Description:
Since 1947.
Sublingual.
With Dibencozide (Coenzyme B12).
Gluten, Wheat & Dairy Free.
Suitable for Vegetarians.
Kosher Parve.
Dietary Supplement.
Vitamin B12 is part of a group of essential nutrients known as the B Complex. It supports energy metabolism and promotes a healthy nervous system. Along with Folic Acid and Vitamin B6, it supports heart health by promoting healthy levels of homocysteine. B12 is required for the normal development and regeneration of red blood cells, which help to deliver oxygen throughout the body. In addition, B12 is involved in DNA...
read more
.
Categories:
Solgar
,
Vitamins
,
Vitamin B
,
ビタミン
,
ビタミンB
,
비타민
,
비타민 B
Последнее редактирование модератором: