Laud Herb in English
English-speaking LH analyst
Команда форума
Сообщения

11.375
Реакции

5
...Since 1982. Raw Fresh Freeze-Dried. USDA Organic. Dietary Supplement. US Grown Turmeric...
​
Full product title:
Eclectic Institute, Turmeric, Whole Food Powder, 2.1 Oz (60 G)
Brand:
Eclectic Institute
iHerb product id:
42098
Laud Herb Tag:
42098



Price:
$14.79
Extra Discount:
Yes
Free shipping:
Yes, to 150 countries
(for orders over $40)
iHerb customers rating:
4.25
iHerb customer reviews:
8
Best choice?
May be...
(see
reviews
)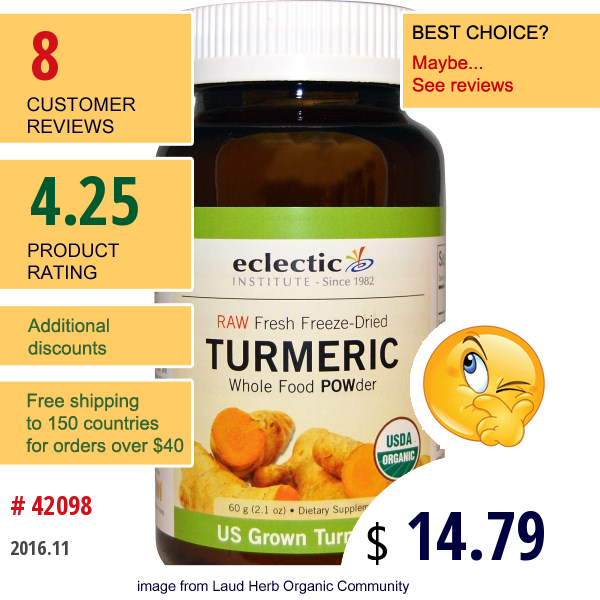 Description:
Since 1982.
Raw Fresh Freeze-Dried.
USDA Organic.
Dietary Supplement.
US Grown Turmeric.
100% Kosher.
Certified Organic by Oregon Tilth.
Non GMO.
Raw, Vegan.
Grain/Soy/Dairy-Free.
Freeze-Dried.
No Added Sugar.
No Fillers.
US Grown.
Eclectic's POW.
ders (.
P.
lant.
O.
riginated.
W.
ellness).
Whole, raw, fresh freeze-dried plants - Nothing added.
We Start and End with Whole Herbs - From farm to bottle, we use naturopathic wisdom and innovative processes to create exceptional products. We organically grow or sustainably wildcraft herbs that are harvested at peak potency, and then freeze-dried in-house. Freeze-drying...
read more
.
Categories:
Eclectic Institute
,
Antioxidants
,
Curcumin
,
酸化防止剤
Последнее редактирование модератором: