Laud Herb in English
English-speaking LH analyst
Команда форума
Сообщения

11.375
Реакции

5
...Organic. Hypo-Allergenic. All Natural. Since 1932. Over 100 Different Uses....
​
Full product title:
Tates, The Natural Miracle Conditioner Spray, 8 Fl Oz
Brand:
Tates
iHerb product id:
48988
Laud Herb Tag:
48988



Price:
$13.83
Extra Discount:
Yes
Free shipping:
Yes, to 150 countries
(for orders over $40)
iHerb customers rating:
4.00
iHerb customer reviews:
27
Best choice?
May be...
(see
reviews
)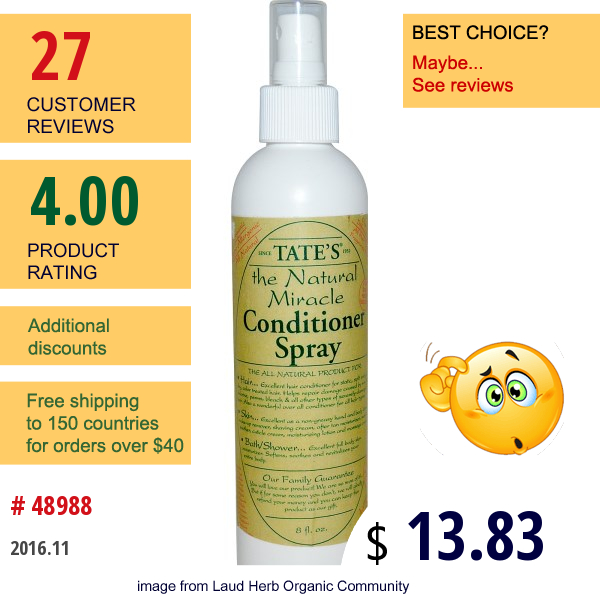 Description:
Organic.
Hypo-Allergenic.
All Natural.
Since 1932.
Over 100 Different Uses.
All Hair Types.
Fragrance Free.
A Great Spray On Hand and Body Lotion.
Love that Tate's.
Spray on Pets Coat for Easy Brushing. Use on Dogs, Cats, Horses, etc.
Stops Hair Damage from Styling, Perms, Coloring and the Sun.
A great leave in or rinse out hair conditioner. Stop split ends, no more fly away hair, brittle hair, restore shine & softness, hair strengthener.
The All Natural Product for:
Hair.
.Excellent hair conditioner for static, split ends & dry, color treated hair. Helps repair damage caused by sun, heat, chlorine, perms, bleach & all...
read more
.
Categories:
Tates
,
Bath & Beauty
,
Hair & Scalp
,
Shampoo & Conditioner
,
Skin Health
,
Для Душа И Красоты
,
Волосы И Кожа Головы
,
Здоровье Кожи
Последнее редактирование модератором: