Laud Herb in English
English-speaking LH analyst
Команда форума
Сообщения

11.375
Реакции

5
...Focused on Food. Dietary Supplement. 100 Calories 15 g Fiber. Great Taste. USDA Organic...
​
Full product title:
Megafood, Dailyfoods, Organic Pure Food, High Fiber Hemp Shake, Vanilla, 16.2 Oz (454 G)
Brand:
Megafood
iHerb product id:
15152
Laud Herb Tag:
15152



Price:
$29.60
Extra Discount:
Yes
Free shipping:
Yes, to 150 countries
(for orders over $40)
iHerb customers rating:
4.5
iHerb customer reviews:
4
Best choice?
May be...
(see
reviews
)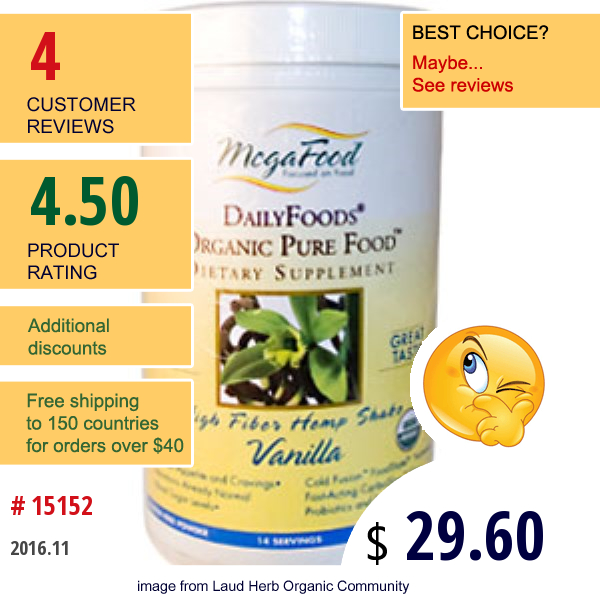 Description:
Focused on Food.
Dietary Supplement.
100 Calories 15 g Fiber.
Great Taste.
USDA Organic.
Reduces Appetite and Cravings.
Maintains Already Normal Blood Sugar Levels.
Cold Fusion FoodState Nutrients.
Fast-Acting CarboSlow Fiber Probiotics and Enzymes.
Gluten Free Powder.
14 Servings.
Certified Organic by QAI.
DailyFoods Organic Pure Food is a high fiber hemp shake specifically designed to support your healthy weight management lifestyle.
Enjoy great-tasting Organic Pure Food in between or before meals to:
Reduce Your Appetite and Help Manage Cravings.
The CarboSlow Fiber Blend and Hemp Protein Powder helps you feel full...
read more
.
Последнее редактирование модератором: