Laud Herb in English
English-speaking LH analyst
Команда форума
Сообщения

11.375
Реакции

5
...100% Vegan. Made with Certified Organic Ingredients. Dietary Supplement. 18 Servings...
​
Full product title:
Paradise Herbs, Pea Protein, Unflavored, 16 Oz (454 G)
Brand:
Paradise Herbs
iHerb product id:
64219
Laud Herb Tag:
64219



Price:
$16.49
Extra Discount:
Yes
Free shipping:
Yes, to 150 countries
(for orders over $40)
iHerb customers rating:
5.00
iHerb customer reviews:
1
Best choice?
May be...
(see
reviews
)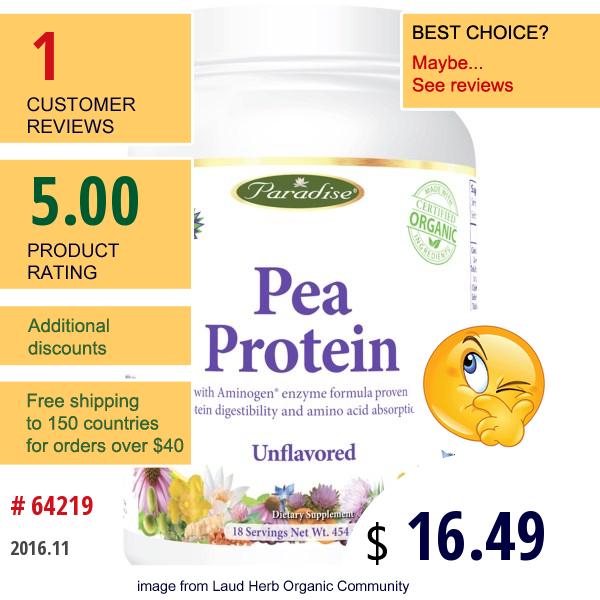 Description:
100% Vegan.
Made with Certified Organic Ingredients.
Dietary Supplement.
18 Servings.
Enhancing Nature's Miracles Since 1994.
Enhanced with Aminogen enzyme formula proven to increase protein digestibility and amino acid absorption!
Paradise Pea Protein is a complete source of vegan, hypo-allergenic protein derived from certified organic pea. Pea protein is easily assimilated and has a sustained release transit time, which means it has excellent digestibility and keeps working. We have further enhanced our formula with the addition of the plant derived enzyme Aminogen. Research shows Aminogen increases branched-chain amino acids by 250%, plasma amino acid levels over 100%, glutamine levels...
read more
.
Categories:
Paradise Herbs
,
Protein
,
Pea Protein
,
プロテイン
,
Белок
,
Белок Гороха
,
단백질
,
콩 단백질
Последнее редактирование модератором: