Laud Herb in English
English-speaking LH analyst
Команда форума
Сообщения

11.375
Реакции

5
...Pure. Nutritious. Tasty. Natural. Non-GMO. Vegan. Simple Super Seeds....
​
Full product title:
Trachealth, Chia + Coconut, 12 Packs, 0.55 Oz (15.47 G) Each
Brand:
Trachealth
iHerb product id:
51809
Laud Herb Tag:
51809



Price:
$13.97
Extra Discount:
Yes
Free shipping:
Yes, to 150 countries
(for orders over $40)
iHerb customers rating:
0
Best choice?
May be...
(see
reviews
)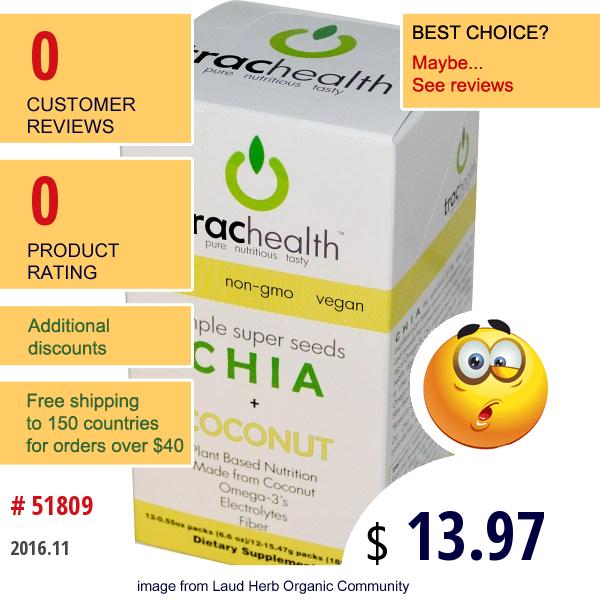 Description:
Pure.
Nutritious.
Tasty.
Natural.
Non-GMO.
Vegan.
Simple Super Seeds.
Plant Based Nutrition.
Made from Coconut.
Omega-3s.
Electrolytes.
Fiber.
Dietary Supplement.
Chia, the superfood of the Aztecs, is an excellent plant based source of antioxidants, vitamins, and minerals that comes from a whole food. With 2000 mg of Omega-3s, Chia supports heart health, cognitive health, digestive health and general health*. Compared to other nutritionally dense foods, Chia offers more Omega-3s than salmon, more Iron than spinach, more Fiber than bran flakes & more Calcium than milk.
Our Chia is from environmentally friendly crops, pesticide free, non-GMO, gluten-free & vegan.
trachealth's...
read more
.
Categories:
Trachealth
,
Superfoods
,
スーパーフード
,
Суперфудс
,
슈퍼푸드
Последнее редактирование модератором: